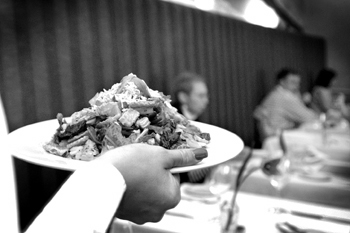 Photograph by Charlie Nucci

Dishing It Out: Lavanda serves its Italian and Mediterranean fare in portions for the big eater.

Purple Reigns

Lavanda restyles Italian food to make it a little more Palo Alto

By Joseph Izzo Jr.

WE VISITED Lavanda on an evening when the air smelled sweet and felt like silk against our skin. The restaurant's modern Mediterranean-style digs didn't hurt either. Spring itself seemed to follow us into dinner that night, purring softly throughout our long meal. We could have dressed in pajamas and spent the night.

Lavanda, Italian for lavender, sets forth an environment where soft tones of wood, ochre and almond combine to create a handsome, elegant space. The only off note is a mural above the banquette in the rear dining area, which clashes with the otherwise simple earthy hues and post-Impressionist style of the other artwork. Overall, though, we were impressed by the décor and layout, and we appreciated the feeling of spaciousness afforded by the large tables. Open windows provided perfect ventilation, letting in fresh air scented with the blossoms from nearby vegetation.

Executive chef Clyde Griesbach is no stranger to the pans. I first tasted his cooking many years ago at the legendary Paolo's in San Jose, when it was still at the corner of 12th and Santa Clara. His love for Italian and Mediterranean cuisine has developed from a youthful dalliance into a passionate affair full of bold, seductive layers. He works with hearty intention, creating dishes that are splashed with color and big with flavor. All the presentations were assembled for maximum visual appeal without tedious and unnecessary decoration. No fusion gone berserk from Griesbach's kitchen.

As is the custom these days with notable restaurants, the menu changes quite often to reflect not just the seasons but also the nuances of each season. We started our dinner with a selection of three dishes listed (as they are in Italy) under First Plates. Deep-fried green olives stuffed with toasted almonds ($6) came warm enough to pop into our mouths without burning our fingers. A reduced portion of confit of duck ($13), roasted to a nutty glow in its own fat and placed on a bed of tender white beans, offered richness that piqued our appetites.

When we asked our astute waiter whether we should order the warm octopus salad ($9) or the warm lobster salad ($17), he advised--with confidence--that the former was rustic but the latter "a little more Palo Alto." Curiosity about all things "Palo Alto" swayed our vote to the lobster salad, which married sweet tail and claw on a pool of celery-root purée supporting waves of emerald-green basil oil. The flavors came together in a gentle flourish.

The second course consisted of pasta in the shape of sturdy ricotta gnocchi ($16), oven glazed in walnut pesto richly fortified with cream and Parmesan, and a hearty dish of tooth-tender chitarra (spaghetti-shaped noodles), minced Italian bacon, onions, garlic, red pepper, parsley and olive oil.

Entrees were served in portions fashioned for the big eater. Our veal chop ($29) measured about an inch and a half high of pink, juicy meat, lightly seasoned and roasted brown. Over the top was poured a composition of forest mushrooms, onions and green beans sautéed in herbs.

Grilled pork spare ribs ($17), roasted crispy, Calabria style, had my guest rolling up her sleeves and picking up the bones with her fingers. Chopped bitter greens and vegetables in a light vinaigrette, though a bit salty, provided a palate-cleansing side dish. Our third selection was a boneless wedge of boat-fresh sea bass positioned like a crown over an exotic mushroom sliced lengthwise down the middle. Bites of fish together with mushroom created a taste and a texture so good we cooed like pigeons.

Desserts of pistachio nut tart ($7) with pistachio gelato and chocolate sauce, warm apple tart ($8) and--our favorite--honey lavender panna cotta ($7) with honey sauce were delicious enough to assuage any guilt we felt about overindulging.

Going home fashionably hungry does not happen at Lavanda. It might be pricey, but don't be fooled by the chic setup. Bring an appetite and hunker down for the duration.
---
Lavanda
Address: 185 University Ave., Palo Alto
Phone: 650.321.3514
Hours: Lunch 11:30am-3pm Mon-Sat, dinner 5-10pm Mon-Thu, until 11pm Fri-Sat, until 9pm Sun
Cuisine: Nouvelle Italian
Price Range: $6-$29
---
---
Send a letter to the editor about this story to letters@metronews.com.
---
[ Silicon Valley | Metroactive Home | Archives ]