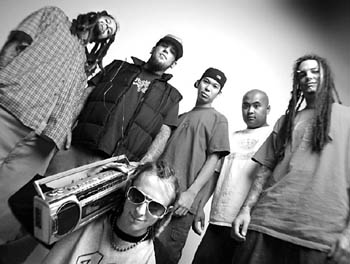 Insolence breaks out the beach hits on its new release.

Higher Love

Insolence ushers in the summer with irie vibes and a sunny new EP

By Sarah Quelland

WITH JUNE ON ITS WAY, the timing couldn't be better for Insolence's new summertime sound. The San Jose band celebrated the release of its new five-song EP (featuring "Downfall," "Hater," "So Long," "Girl" and "Revolt") last Friday (May 9) with a big show at the Edge supported by Divided, Shortie and Baysik.

The self-titled disc finds vocalists Mark Herman and Billy "Mech 1" Rosenthal exploring their singing voices, and the group is experimenting with its hard-core street sound, infusing it with sunny reggae melodies that lighten up the mood of the material.

After opening Friday's show with familiar songs "Poison Well," "Operation Irie," "Natural High," "Death Threat" and "Revolution," the band dipped into its new stash, breaking into the sneaky psychedelic reggae groove of "Downfall," the first track on the new EP.

Trimmed down and toned up, Herman was in good spirits, swinging his arms and strutting like Mark McGrath. "Don't be afraid to shake your ass, everybody," he told the crowd before the band launched into the summery and danceable beach hit "So Long."

Sweet and sexy, "Girl" is similarly good for the dance floor. Rosenthal opens up this celebratory track with "Girl you are the ultimate/ I tell you little girl, you've seen nothing yet/ I'll take you to a place that you've never been/ But I think you must know that I come here to show my love." Then Herman jumps in, "Girl I got it bad for you/ Never break your heart/ Always will stay true/ The lovin' that I got I only give to you/ Knew from the start that you would be my only one." Enhanced by breathy female sighs of pleasure, it's a real departure from Insolence's often angry and confrontational catalog.

In addition to songs from Revolution and the new EP, Insolence shared some of its unrecorded material as well, including "Put Down Yo Gun" and "Heart and Soul." "I wanna see a big old-school circle pit," Herman announced as the band hit overdrive with the speedy, screaming and pounding "Information." Sirens were blaring and strobe lights were flashing inside the club as the band closed with the urgent "Head 2 Head," only to return for a two-song encore of "1-2, 1-2," and "Revolt."

In mid-June, Insolence is scheduled to enter a Los Angeles studio with producer T-Ray (Cypress Hill, Ozomatli, Helmet) to record its full-length album. Visit www.insolence1.com for updates.

DOLLAR NIGHTS: The Blank Club recently implemented Dollar Thursdays with $1 cover, $1 Pabst until 11pm and live music. Next Thursday (May 22), catch the debut of new band Roxy Roller, which features former members of the Richmond Sluts and the Odd Numbers. Ex-Odd Numbers drummer John Cummings describes his new band's sound as a fun and goofy cross between the Rolling Stones and Sly and the Family Stone. Roxy Roller is working with Alonzo Jackson of Heeba Jeeba Productions. All Time Low also performs.

BIG FRIGGIN' DEAL: LIVE 105's annual summer concert turns 10 this year. BFD 10 takes place June 13 at Shoreline Amphitheatre with Foo Fighters, Deftones, A.F.I., the White Stripes and Evanescence on the main stage; the Transplants, the Donnas, the Used, Interpol, the Ataris, All-American Rejects, Finch and Hot Hot Heat on the festival stage; and various DJs on the Subsonic Stage. Tickets are $28.75 general and $58.75 reserved. Visit www.live105.com to find out about the local band launch.

HOT TOPIC: Local rock band downside has changed its name to Strata and has been hunkered down in a studio in Los Angeles with John Travis recording its new album. The group embarks on a national tour with dredg, Codeseven and S.T.U.N. that kicks off on May 15 at the Boardwalk in Sacramento and wraps up on June 26 at Bottom of the Hill in San Francisco. Visit www.strata.ws for more info.

PLAN AHEAD: Deke Dickerson, May 16 at the Blank Club; SECURITY and Negative 7, May 16 at Rooster's in Alameda; Tragedy Andy, Tonavigate, Locale AM, My Former Self and Up and Running, May 16 at the Portable (590 Shawnee Lane, San Jose); Hayride to Hell, Concombre Zombi and Devilheads, May 17 at the Blank Club.
---
Send a letter to the editor about this story to letters@metronews.com.
---
[ Silicon Valley | Metroactive Home | Archives ]