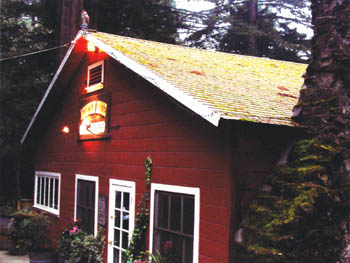 Photograph by Chris Revell

Treehouse Gourmet: Humble abode notwithstanding, the Mountain House makes menu magic.

Back to Your Roots

In the forests of Woodside, deer aren't the only things on the menu

By Aaron Robinson

OVER THE HILL and through the woods is one thing. To reach the Mountain House, off Highway 35, you'll need more detailed directions. As we drove deeper into the twilight groves of Woodside, the road winding, the bay views growing ever more sparkling but more remote, my dining companion observed, "This isn't a place you'd want to take a first date--they'd start to get worried around now."

Our first impression of the restaurant's interior wasn't much more reassuring. A dark wood bar populated by a few rugged-looking regulars revived visions of David Lynch's Twin Peaks. Once past the bar, however, a cheerful and elegant lodgelike dining room opened up.

We were taken in hand by a friendly, well-composed host who steered us past a crackling fireplace to our table in the corner, overlooking endless stands of redwoods. This section of the restaurant had been glassed in so that it resembled a remodeled porch or conservatory, and the views of the woods pressing in on us lent a romantic, if portentous, feel.

Without a stutter, descriptions of specials poured flawlessly out of our server's mouth. Two of them--steamed mussels ($6.95) in garlic and white-wine broth, and a butter lettuce salad ($6.95) dressed in cumin-tomato vinaigrette with palm hearts--caught our attention. To join the über-tender mussels, we selected from the menu the ceviche ($7.95): raw pieces of ahi, salmon, scallop and shrimp "cooked" by the acids of lime juice and intensified by fine diced green pepper, tomato and onion.

The crisp, young fruit of the 2001 Frog's Leap Sauvignon Blanc ($28.00 by the bottle) complemented the ceviche, offering a soothing backbone to the salty and acidic flavors. We found the bread selection most scrumptious (notably the sweet wheat loaf) and could not allow the bowl of steamy and spicy mussel broth to be removed until we had soaked up at least two baskets' worth.

Remarkable timing between the clearing of our appetizers and the delivery of our salads testified to our server's polished expertise. The conjuring of baby spinach, candied pecans, goat cheese and citrus vinaigrette ($6.95) turned out to be a little too light on the goat cheese and was dressed just adequately enough with a mildly flavored dressing. The sweet and creamy tomato vinaigrette on the salad special had a flavor that was too grocery store familiar, but hidden troves of earthy poached porcinis and tangy marinated palm hearts, along with the other components, gave the salad an appeal that was completely, and tastily, unorthodox.

On a menu strewn with rare game and hearty selections, we decided to forgo the ostrich fillet and order what the Mountain House is "known best for": an incredible rack of juicy Australian lamb ($28.50) cut into three plump chops and dabbled very lightly with a orange and Pommery (whole-grain) mustard sauce. Though the kitchen ignored my request for medium rare, the dish's intense flavor diminished any resentment I may have had--even my date, an avowed lamb dish dodger, had to acquiesce. Grilled asparagus, ridge-cut carrots and two wedges of a roasted red potato accompanied.

The second entree, a boneless chicken breast ($17.95) stuffed with spinach and Jack cheese, rolled in bread crumbs and baked, came smothered in a rich rosemary and mushroom cream sauce. This dish was a hearty and creative bid at good old-fashioned comfort food.

After our plates were cleared, dessert suggestions were given. Again, the special grabbed our attention: a warm pear tart ($6.95) topped with vanilla bean ice cream, drizzled with ice-wine syrup. The ice wine was not too predominant in the syrup--then again, the syrup wasn't too predominant in the dessert. Still, the tart had the proper character and light finish that we were looking for--a gratifying closure to a memorable meal.

If you're looking for a sense of adventure and serenity along with culinary expertise, I think you'll find the Mountain House fascinating. When you're sitting there dining, the hours seem to fly by, and when it's all over, you feel like you just arrived from a miniature vacation. Just don't forget the map on the way home.
---
The Mountain House Restaurant
Address: 13808 Skyline Blvd., Woodside
Telephone: 650.851.8541
Hours: 5:30-9pm Wed-Thu; 5:30-10pm Fri-Sat; 5-9pm Sun
Full Bar
---
---
Send a letter to the editor about this story to letters@metronews.com.
---
[ Silicon Valley | Metroactive Home | Archives ]