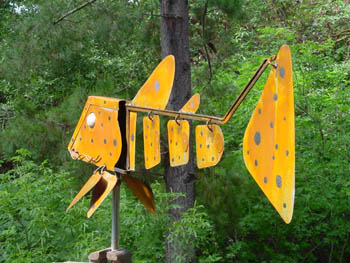 Fish Out of Water: Philip J. Lange's fish mobiles 'swim' through the air on elaborate hinges.

Open-Door Policy

Santa Clara County artists expose their creative journeys at Open Studios this weekend

By Marianne Messina

PERCHED on its 3-foot-high stand, the mobile, steel-wrought fish titled Pacifish wriggles dispassionately as the auctioneer taps it, and two bidders fight over the prize in painful increments: $150 ... $200 ... $300 ... "I feel my head swelling," says Pacifish's creator, Philip J. Lange. Lange and his fish are just becoming aware of the feeding frenzy in the world of objets d'art.

The annual Silicon Valley Open Art Studios celebrates the struggling artist, but its kickoff auction on April 24 highlighted what "art" can mean in a place where artists' studios are sometimes set amid million-dollar homes. On one end, it can mean the collectible mentality, acquisitive people seized by one-of-kind-itis in an ethos that equates the ability to "spend money well" with intelligence and maturity. On the other end, it means "artists" who fly at you like retailers, boasting "authentic teak-wood frames," when you just asked them something about composition.

But if cynics can overlook the finances and some academic issues, they'll find the treasure buried among several hundred open studios this week in the artists' journeys. (The event, this weekend, covers the southern Santa Clara County cities of Campbell, San Jose, Santa Clara, Los Gatos and beyond.)

It starts with breakthrough. Lange was creating abstract steel sculptures when he suddenly saw one of them as a fish. He's been obsessed with fish ever since, crafting hinges and stands so they can undulate freely in the wind. "If you put your fish in a garden, the plants become the kelp, the seaweed," he explains.

If you add more fish, say, a school? "They all move in the same direction at the same time," Lange says, "and now I've got like 45 fish at my house." Aside from the fact that Lange's fish are organized around aesthetically elegant lines, they are also flipping those lines. Like any good art, they make you see things afresh.

Josephine Cooley was doing traditional gourd design when her breakthrough came. She noticed, in a book, a small person made out of gourd parts. Something clicked. Tortuous twig arms evolved from scavenged driftwood; striking wood-burned faces bubbled up from Cooley's past.

"I used to draw faces all the time when I was a kid," Cooley says. Now her shop is filled with little gourd people she seems to have caught somewhere between awe and yearning. Semantic debate on "art" vs. "craft" aside, the artist's journey takes her to her childhood so that the artwork can take us to our own. And Cooley's pieces do that.

"What I really like about it is it's very spontaneous," says Karen Ford of her monotype print process. "It's like adult finger painting." Both Cooley and Ford enjoy that childhood favorite, scavenging for their artistic materials. Cooley scavenges palm fronds for gourd-people hair; Ford scavenges for a leaf or twig to press into her print.

The natural elements interrupt Ford's cool, abstract colors with a ghostly reminder of life, like fossils. Ford considers her final work part vision, part accident. She holds up one of her mixed-media prints, explaining how she set the plant material and how the ink and plant always create unknown variables when they interact. In the end, her eye tells her that skill and happenstance have all come together. "I like those serendipitous moments," she says.

A town away, Christine Oliver holds up a watercolor rooster, a then-unfinished assemblage. "This one I'm really worried about," she says, "because I can really muck it up." So yes, the artist's journey includes slaying some dragons, and it would seem that this act of faith or defiance ultimately pushes the artist ahead, which makes it tempting to return to Oliver's studio and ask to see the rooster.
---
2003 Silicon Valley Open Studios runs May 17-18, 11am-5pm, in southern Santa Clara County, with encore days for some northern county artists. Tour books are available at a variety of locations; check www.svopenstudios.org for details. (650.562.1949)
---
---
Send a letter to the editor about this story to letters@metronews.com.
---
[ Silicon Valley | Metroactive Home | Archives ]