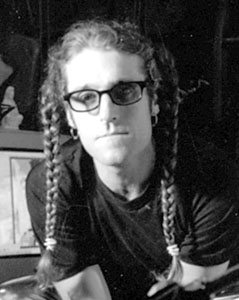 The Merry Mole digs deep.





Top Cellar

Eclectic local musician Kenny Schick emerges with Basement 3's latest, 'Rising'

By Sarah Quelland

NO ONE could be happier than local musician Kenny Schick to see the follow-up to his sexy low-rock album Eating the Cannibal finally released. It's been two years in the making, but his latest record, Rising (Merrymolemusic), is ready for open ears to appreciate. Schick (perhaps best known as the sax man in Dub FX, the Brownies and Neosoreskin, and the guitarist in dot 3) describes the music on this Basement 3 album as subterranean world-core generated by a tribe of angry moles in group therapy. Turns out that's a pretty accurate assessment.

While the exotic and seductive Cannibal nodded toward Morphine with its jazzy, noirish feel, Rising takes a different approach and creates an entirely different mood. Rising is a concept album set in two acts, with an overture and a finale. Ultimately, this recording marks the emotional journey of a wounded man dealing with a deep sense of loss and working through it to become whole again. It's a spiritual catharsis fueled by years of soul-searching.

Buoyed by the background noise of doors creaking shut and fingers snapping, the string-driven "Back Home" explores the turmoil that follows the dissolution of a long-term romantic relationship and the difficult emotions that surface when the hero realizes it's really over. Guest Heather Courtney's ghostly vocals give an extra dimension to the lonely song, enhancing the male/female dynamic.

"Habit" is at once aching and angry: "And we wanted more to keep the fire in our souls and the hope in our hearts / And you wanted me, 'cause you saw something in me you thought would keep your little world from falling apart / I want more than you."

At the end of Act 1, "Connection"--a song that dips its toe into industrial waters with low-rock nuances--finds a man struggling for control ("Drowning, I'm sinking in the quicksand / Don't want, don't need. I want to believe your love, your lies"), while the start of Act 2 and the song "Forever" find the hero coming to terms with his circumstances, acknowledging the pain while still cherishing the closeness he once shared with the person he lost.

The sparse ballad "I Am" is both lovely and sad as the hero realizes he can't continue compromising his own values for the sake of another individual. He responds with dignity: "I've tried my whole life to push myself around / I finally got tired of getting up off the ground / You might shove a square peg into a round hole, but those sharp little corners gonna tear at your soul."

Act 2 steadily speeds up, becoming more confident with the momentum. The horn and string-driven "Rising," the percussion- and guitar-heavy "Push" and the world-music combo "Clear"--a joyous number fueled by congas, turntables and saxophones--celebrate strength and independence. Schick closes the album with "Last Song," asking, "Is this not what you wanted? / To hear me say, to speak my mind in this way? / A different view is sometimes what is needed."

Because of the nature of this ambitious project, which pulled in numerous guest musicians (including drummers Kevin Higuchi, Mike Freitas, Dave Gary Jr. and Gordon Gurley; trombonist Tony Lanzino; and clarinet player Les Harris), I doubt we'll see the songs performed live anytime in the immediate future, although Schick is toying with the idea of developing a live band to perform this material. In the meantime, Rising is available at www.basement3.com or on www.cdbaby.com.

ALL THE NEWS: Channel 104.9 presents a $1.49 show Friday (May 17) at the Usual with Sense Field, Last Friday's Generation and Picnic. ... Agenda Lounge begins its summer music series, Din-din-Din, on the patio Friday (May 17) with Modesto Briseno, featuring special guest guitarist Chris Cain. ... The House 4 the Homeless Festival featuring numerous DJs will be held Sunday (May 19), 11am-8pm at Coyote Hellyer Park in San Jose. ... Smash Mouth and Boomshanka play Footstock Sunday (May 19) at the Golden Gate Polo Fields in San Francisco. ... The Shoreline Amphitheatre OzzFest has been moved from Aug. 29 to Aug. 25. Tickets for the original date will be honored.

PLAN AHEAD: Kiss the Girl, UVR and Mozaic, May 16 at the Cactus Club; Prong, May 16 at Slim's in San Francisco; downside and Disquiet, May 16 at the Usual; Motorhead, May 17 at Club Townsend in San Francisco; Emaneht, May 17 at Plant Fifty One.
---
Send a letter to the editor about this story .
---
[ Silicon Valley | Metroactive Home | Archives ]