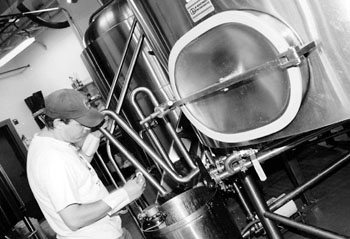 Photograph by Erika Pino

Hallelujah To The Beer: Amen to the salmon

Pub Hubbub

With fabulous brews and smart service, Stoddard's succeeds in making a scene

By Joseph Izzo Jr.

THE BEER AT Stoddard's is delicious, some of the best microbrew I've drunk in years. The pale ale, honey-gold in color, goes down smooth, like liquid silk. I bow to the brewmaster.

Like all good brewpubs, Stoddard's is a hub of social interaction. At cocktail hour, this place vibrates with energy, becoming so noisy that I heard one patron say, "I feel like I'm at a tent revival, and everybody is speaking in tongues."

Noise or not, everybody appeared to be having a good time, basking like seals in after-work slack. Stoddard's brewing hardware is on display behind the bar. The entire motif plays off the brewpub theme, creating an industrial-chic décor.

For drinking purposes, I prefer to stay downstairs and mingle with the gadflies with the open ties and torn Hawaiian shirts. Around the corner from the bar, there are tables for dining with a view of the exhibition kitchen. It's a great view, but for optimal dining I recommend a seat upstairs, where it's quiet and conversation is audible.

Here, we were able to catch our breath and discuss the splashy prints of music-world icons, on loan from the Bruni Gallery. They line the walls top to bottom. The one of Janis Joplin near the bar downstairs ignites the room with bold strokes of primary colors.

I enjoyed the beer much better than I did the food. The menu comprises a tidy array of contemporary pub dishes with a few major entries like the marinated skirt steak with mushroom leek sauce ($19.50). Overall, the food served the purpose but earned no culinary accolades.

On two occasions, we sampled the fried calamari and rock shrimp ($9.95), a heaping deep fry of tender crustaceans encased in a pub-grade batter with cocktail sauce and spicy tartar sauce (for dipping). Thai spring rolls ($7.25) had better eye appeal than flavor, though the skins were crisp and the filling of shredded carrot and cucumber fresh and crunchy. The lemon plum sauce waxed glassy on the plate and snapped tart against the palate.

We enjoyed our pear and Stilton cheese salad ($7.95) better than our oil-drenched Caesar ($7.95). Fruit, cheese and organic greens came together with delicate balance in a tame sour-cherry vinaigrette. Of our entrees, we enjoyed the salmon (on special for $26.95) most of all. A moist ample fillet draped a bed of al dente vegetables and buttery mashed potatoes.

The mix of grilled sausages ($16.95) combined chicken Parmesan and Italian turkey, grilled to a golden blush then stacked over mashed potatoes with Swiss chard sautéed juicy. The sausages looked good--like so many dishes here--but, sadly, the flavors were on furlough. When I go out to dinner, give me pork sausage. Leave the turkey and chicken for those cholesterol-fighting days at home.

Our slab of house-smoked baby back ribs ($16.50 half; $26.95 full) was tender, sweet and permeated with smoke. A full slab went around the table with bones for all. The sauce had a liquid consistency that made us pucker from an overabundance of vinegar.

Rigatoni pasta ($13.95) failed on all counts. The pasta was so overcooked that the tubes were already broken into pieces and muddled in a tomato sauce with vague hints of basil. Also from this section of the menu, we had a pizza margherita ($11.95) that we all agreed had good flavors but was soggy, as if finished in a steamer, not an oven.

The best part of our meal came not from food or beverage but from the interaction with our server, Katrina, who managed our table with instinct and exuberance. By meal's end, we were charmed by her guileless manner and humorous asides.

Stoddard's is batting about .500, which isn't bad for a fledgling enterprise. The place has potential and is a lot of fun, but the dishes need to be tinkered with.
---
Stoddard's Brewhouse & Eatery
Address: 200 E. Campbell Ave., Campbell
Phone: 408.370.2033
Hours: 11:30am-10pm Mon-Wed, until 11pm Thu-Sat, until 10:30pm Sun
Cuisine: New Age Pub
Price Range: $8-$28
---
---
Send a letter to the editor about this story .
---
[ Silicon Valley | Metroactive Home | Archives ]