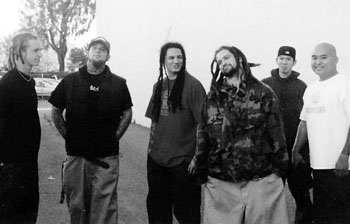 Revolution Rock: Insolence forges ahead despite conflict and rumors.

Insolence is Bliss

San Jose's Insolence ponders the future after an acrimonious split with its founding member

By Sarah Quelland

"YOU EVER been up here before?" Insolence vocalist Mark Herman asks me as we drive deep into the wilderness along twisting Hicks Road near the Guadalupe Reservoir. "This is where teenage boys take girls in Los Gatos to scare them with stories of albinos."

Sitting in the passenger's seat of Herman's hulking Pontiac Aztek, I'm not thinking about albinos. Rather, I'm hoping neither Herman nor bassist Paul Perry notices that I'm slowly turning five shades of green. I should have taken Dramamine.

As Herman rolls my window down, we talk about the future of Insolence and the brand-new tracks the band has committed to tape. Alluding to the title of its major-label debut, Revolution, Perry is quick to reassure: "The revolution's still going on. Despite what people think, our band is alive and well."

There's been speculation on the status of Insolence since Herman, Perry, vocalist Billy Rosenthal, guitarist Mike Rowan and DJ Jerry Dalalo parted ways with drummer Mando Cardenas and manager Angie Cardenas due to the oft-repeated refrain "irreconcilable differences."

Herman and Perry remain cautious and diplomatic when discussing the situation, but the bad blood is obvious. The last straw, they say, came when Mando tried to replace guitarist Rowan. According to Perry, when the rest of the band refused, Mando expected the group to break up and everyone to go their separate ways. "It's, like, 'What do you mean? We're the band,'" says Perry, incredulous. "Obviously, there's a problem if five people walk away from you."

The new group has written 18 songs and recently spent a week in Malibu recording a 13-track demo with new drummer Kevin Higuchi (Salmon, the Brownies, Neosoreskin). Insolence is shopping for a producer for the sophomore release on Maverick.

"We supposedly broke up, but yet we just recorded 13 tracks," Herman says. Perry nods in agreement from the back seat. "While all the drama was going on, we were in a studio locked away making mad-scientist music for the next generation."

The San Jose band built its fan base on an energetic fusion of rap, reggae, hip-hop and metal. Revolution may not have blown up, but it did spawn a minor hit with "Poison Well" and opened new opportunities. "Natural High" showed up on the Little Nicky soundtrack; Insolence did a cameo in the movie Driven; and "Poison Well" was featured in the trailer for the Robert Redford movie The Last Castle. More recently, the band toured Japan.

Around twilight, we park on a well-worn patch of grass near a small, still lake. Herman calls this his thinking spot. In these peaceful surroundings, with frogs croaking nearby and deer grazing in the hills, Herman plays the new Insolence material on his car stereo. The island-flavored music doesn't disrupt the quiet, natural setting but, rather, strangely complements it.

The new Insolence stays true to its street roots and shows a progression, adding touches of drum 'n' bass and dub. They've put their own unique stamp on the metal-meets-reggae sound, taking it in a more aggressive direction than other hybrid bands like 311 or Long Beach Dub Allstars. For the first time, both Herman and Rosenthal sing. Rosenthal's voice proves particularly expressive, merging masculinity with sensitivity on a love song he wrote titled "Gold."

Other song titles describe the struggles the band has faced over the past year: "Downfall," "So Long," "No More Lies," "Nothing Left" and the antiwar "War."

"I feel like this is the most uplifting, positive record we've written so far," Herman states. "And I think that just comes with age and experience and all the crap that we've gone through. It's all helped feed our fire."

They may need the energy. The guys are in the early stages of a legal battle with founding member Mando (who is now in a new rap-metal band called Lifted) to determine which side owns the rights to the name Insolence. Herman lets out a weary sigh. The future is a constant weight on his mind, and he's done carrying it for tonight.

"The band's more of a brotherhood now than it ever has been. Whether the name of the band is Insolence or not, we will still always be Insolence in our hearts. And the name of the band doesn't make a band. The songs make a band and we're the band writing those songs."
---
Insolence plays Saturday (May 18) at the Cactus Club, 417 S. First St., San Jose. Sikness, Sol Ascending and Two Steps Behind open. (408.491.9300)
---
---
Send a letter to the editor about this story .
---
[ Silicon Valley | Metroactive Home | Archives ]