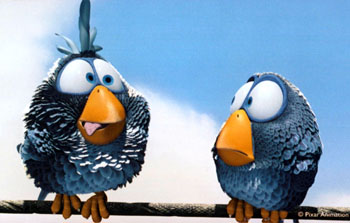 Bird Brains: 'For the Birds' by Ralph Eggleston and the Pixar Studios is perhaps the most famous entry in 'Spike and Mike's Best of the Fest.'

All the Best

New compilation highlights Spike and Mike's finest animated shorts

By Richard von Busack

AFTER LAST YEAR'S dismaying Spike and Mike's Sick and Twisted, it's a pleasant surprise that director Spike decided to take another tactic and sort out the best of the pair's archives for this 25th-anniversary compilation. Of course, some of the selections could use a rest: For the Birds, which won the Oscar for Best Animated Short this year, is a charmer, but anybody who gets to the movies a reasonable number of times has already seen it. And the Lauenstein brothers' Balance, with its BB-eyed Nosferatus trying to gain their footing on a slant board, also loses its appeal on the 10th viewing.

However, The Devil Went Down to Georgia is Mike Johnston's delightful adaptation of a country chestnut, with music by Primus' Les Claypool, hiding under the pseudonym Festus Clamrod and the El Sobrante Twangers. (Living near this somewhat hardscrabble town, I heard the rumor that "El Sobrante" means "The 30-Day Sober One" in the ancient Spanish.)

Screen Play by Barry J. C. Purves is a bloody yet delicate version of a Japanese Noh play, staged by dolls for your amusement. It was only nominated for Best Animated Short of 1992--what could possibly have been better than Screen Play that year? And the 1994 Oscar winner, Bob's Birthday by Alison Snowden and David Fine, is a hilarious study of middle-aged woe.

This festival of winners shows not just that Spike and Mike were canny in selecting the best up-and-comers but also how much more latitude a filmmaker has making a short than a feature. Chris Wedge's 1998 Oscar winner, Bunny, is clearly darker and more brilliant work than his current feature Ice Age. And while the Toy Story films of John Lasseter are marvels, his study for them, Tin Toy, is a slightly more personal work. In this dialogue-free story of a gargantuan baby pursuing a frightened wind-up toy, we find both a troubling image of infancy and, one suspects, a revelation of sorts about a new father's mixed feelings about having a baby in the household.
---
Spike and Mike's Best of the Fest (Unrated), a compilation of animated shorts, opens Friday at the Towne Theater in San Jose.
---
---
Send a letter to the editor about this story .
---
[ Silicon Valley | Metroactive Home | Archives ]