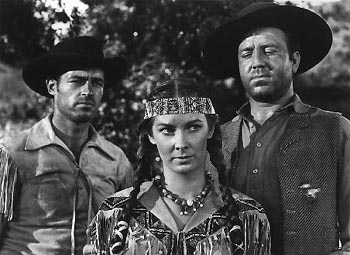 Scene from 'Charge at the Feather River.'

In the Round

Stanford Theater festival highlights mid-'50s 3-D features

By Richard von Busack

IT SEEMS as if 3-D is back for the same reason it arrived in the early 1950s--to get people away from their television sets. The Stanford Theater in Palo Alto is showing a week-long, very eclectic selection of 3-D films (May 19-25), just before a two-week recess to reorganize for the theater's 75th birthday in early June.

Meanwhile, at the Metreon in San Francisco, the Belgian-made film 3-D Mania plays in a new computer-augmented 3-D format on the IMAX screen. The 40-minute 3-D Mania has its limitations--lots of comical, corny robots and a nutty professor played by Stuart Pankin for the kids, for example. And there's scarcely any screen time by the top-billed (not to say top-heavy) star Elvira, Mistress of the Dark.

Most of 3-D Mania is used to show off the big moments from Terminator 3-D and some other films produced for indoor roller-coasters, made to be viewed with electronic plastic goggles like the ones LaForge used to wear on Star Trek: The Next Generation (the effect is a great improvement over the traditional cardboard glasses).

Yet the real excitement for me in 3-D Mania was the material from the past--the full-screen reproductions of stereoptic postcards, one which allowed the viewer to virtually walk in to Thomas Edison's lab as it was 100 years ago.

To demonstrate 3-D's heyday, 3-D Mania includes a short montage of bits from 3-D films from 1953: clips of It who Came From Outer Space, and some painted extra posing as a Jivaro, menacing the audience with a shrunken head. Fun, but we completionists demand more--which is why the Stanford's very rare selection of 3-D movies is perhaps even more exciting that the new methods used to produce the old illusion.

The week-long program includes a Saturday and Sunday marathon, with programs repeated throughout the week. All of the films (but one) following are from 1953-D, I mean, 1953-AD. (Check Showtimes for complete days and times.)

The Maze (May 21, 23) was directed by William Cameron Menzies, who did the art direction on Gone With the Wind. He creates a palpable horror story mood of 3-D mists, moats and ancestral curses, all undone by the traditional problem of eventually showing the rubber monster. And what a ludicrous monster it is, all but hooted off the screen during its last local appearance at the Towne Theater in San Jose a few years ago.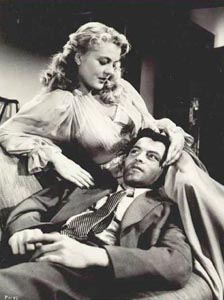 Scene from 'I, The Jury.'
A real rare one, especially in 3D: I, the Jury (May 20, 25), starring Biff Elliott as Mickey Spillaine's Mike Hammer, whose fists emerge from the screen to clobber any pinkos in the audience. He's on the trail of commies, particularly his best pal's murderer, who'll be "a job that'd gag a maggot"--in Spillaine's deathless phrase--when Hammer's through with him. Photographed by John Alton, who also shot He Walked by Night, that remarkable, almost silent 1948 noir with a storm-drain chase almost as good as the one in The Third Man.
Revenge of the Creature (May 20-22), the third and final installment of the gill-man story, set at a Florida's Marine Land, where the Creature from the Black Lagoon is captured and taunted by mean tourists until he rampages.
The Glass Web (May 19, 24) Edward G. Robinson in 3-D as a television executive who gets caught in a murder/blackmail trap.
Gun Fury (May 19, 24) Raoul Walsh directs Rock Hudson and Donna Reed as lovers separated by a gang of criminals. It's a very basic Western, co-written by Irving Wallace, but it sports an impressive pack of villains: Phil Carey, Neville Brand and Lee Marvin. (Wasn't Walsh a one-eyed film director, just like the 3-D House of Wax's Andre de Toth?)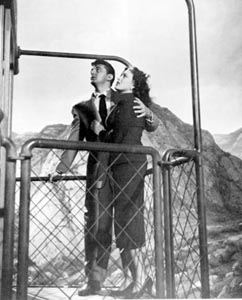 Scene from 'Second Chance.'
Second Chance (May 21, 23) In South America, a has-been pugilist (Robert Mitchum) meets up with a former gangster's moll (Linda Darnell) who has been marked for death by gunman Jack Palance. Filmed in Mexico, the 3-D finale takes place in a stranded cable car high in the sky.
Charge at the Feather River (May 20-22) A Guy Madison Western with a Dirty Dozen-style plot; some jailed soldiers are the only ones that can defend the fort when the Indians attack. Scholar Leslie Halliwell called the 3-D photography here "probably the best to be achieved in the brief life of the medium."
Inferno (May 20, 25) This film, which Robert Ryan called one of his favorites, begins where Greed ends. Ryan's selfish, hard-drinking millionaire breaks his leg in the Mojave desert and is left to die by his wife (Rhonda Fleming) and her lover (William Lundigan). Lucien Ballard photographed, using 3-D to capture the Mojave's vastness, heat and isolation. The film's visuals demonstrate the dramatic possibilities of 3-D, then as now dismissed as a novelty suited only for jarring an audience.
[ San Jose | Metroactive Central | Archives ]