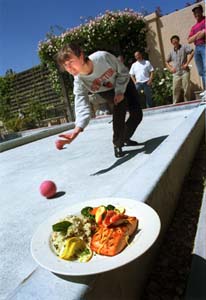 Roll With the Munchies: It's all food and games at Campo di Bocce.

Photograph by George Sakkestad





Get Your Game On

High-rolling Campo di Bocce scores big with both bowlers and diners

By Joseph Izzo Jr.

I'VE BEEN TO Campo di Bocce three times now. On two occasions, my guests and I attempted to play the ancient game of bocce before dinner. The first time we played the game indoors, the second visit outside under rays of sunlight in the midst of a terra cotta garden--a beautiful one at that, replete with fountain, fireplace and crawling vines. While we played, we picked at crispy calamari ($7.25) and antipasto ($6.75 half; $9.75 full) drizzled with vinegar and oil. We raised glasses of blood-red Chianti and had a great time.

Our third and most recent visit, we opted not to play but to dine inside at one of the linen-covered tables dotting the center between bocce courts. From here the layout unfolds and the wide-open spaces--full of color and Italian accents--are revealed. The architectural design, with warehouse ceilings and industrial lighting fixtures, serves its purpose as both sports facility and restaurant with striking modern appeal. It's comfortable, but noisy. With all the clamor in the place, the voice of Andrea Bocelli was reduced to a faint murmur. But I had to remind myself: noise is at home here.

Campo has achieved its purpose, becoming in its young life a rollicking clubhouse for bocce fans and their pals, where neophytes and pros can roll the balls, eat pasta, drink wine and gab endlessly with anybody who will listen. For some Italians, this is the next best thing to heaven.

What I like most about Campo di Bocce is how it continues to progress. Each visit has shown a marked improvement in the food and service. Not that it was bad to begin with. It was always good, but it's getting better and I like to see that. It's apparent that the owners take their work seriously--they've planned the place well.

This visit, we opened with a small pizza topped with boar sausage, potato and rosemary ($14.75), a curious combination that seemed an unlikely partnership at first, but proved a delicious departure from the usual toppings. Everything melded together atop an airy oven-fresh crust baked to a golden underside.

We attempted but failed to refresh our taste buds with an uninteresting Campo di Bocce Salad ($4.95). All the ingredients--baby greens, tomatoes, cucumbers, roasted peppers, kalamata olives, red onions--were fresh and tasty, but the herb vinaigrette had little herb, too much oil, and the red onion--cut into rings--was more a distraction than an enhancement. The Caesar ($5.25 small; $7.50 large), which we had on a previous visit, was better composed.

I've had many pasta dishes listed on Campo's menu and have enjoyed most of them, especially the Spaghetti Puttanesca ($10.25). From the pans comes a rugged, full-bodied rendition light on anchovy but abundant with cured olives and garlic. Glasses of a mellow '96 Lambert Bridge Merlot stand up nicely to the demanding spices of this celebrated Italian specialty.

We also sampled the Seafood Cioppino with the tagliatelle for $14.95. Campo's reading of this traditional fisherman's stew provides generous portions of clams, mussels, prawns and white fish in a rich tomato-based sauce fortified with the juices of the shellfish. I found the sauce a little sweet, but my guest disagreed. If I have this dish again, I will order it without the pasta ($12.95). The noodles, though tender, took my attention from the core ingredients.

For entrees, we had a mouth-melting ahi tuna with Cajun spices (on special); a salmon fillet, grilled and finished with a sauce of lemon, butter and capers ($14.25); and a smoked pork chop ($14.95) in a glossy balsamic reduction. Both fish and meat wore the signatures of outstanding quality and impeccable freshness, excellent indicators of high standards in the kitchen.

Service, too, has improved, maybe not as quickly as the food, but fast enough to ensure smooth running at the table. In the beginning, when Campo first opened, most of the servers were young and inexperienced. Kitchen-to-table timing was out of sync, and basic table management was, at times, helter-skelter. Though most servers are still young, they seem more savvy about timing and attending promptly to patron needs. Our waitress didn't miss a beat.

In closing it must be noted that Campo di Bocce has dining rules. Yes, rules. Basically, you're on the clock. The host, who informed us of the hard facts after he realized that we were dawdling endlessly, told us we had an hour and 30 minutes to eat and leave. By his watch, we had used up all but 20 minutes. I will admit that we were waiting for a dilatory guest, and that we subsequently took longer than usual to order. Still, it was a little late in the game to be told that our time was running out.

I can understand a sporting, multipurpose place like this finding it necessary to establish such rules (you have to accommodate players and diners, after all). But when you're spending good money, you want a relaxing meal without unexpected time constraints. Patrons should be informed of this policy when making reservations. Don't you think?
---
Campo di Bocce
Address: 565 University Ave., Los Gatos
Phone: 408.395.7650
Cuisine: Rustic Italian
Hours: Sun.-Thu. 11am-9:30pm; Fri.-Sat. 11am-10pm
Prices: $9-$20; specials offered
---
[ San Jose | Metroactive Central | Archives ]