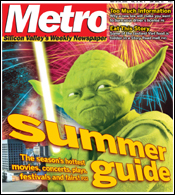 For the Week of
May 18-24, 2005
Cover: Summer 2005 Guide:
The season's hottest movies, concerts, plays, festivals and fairs.
Light-Saber Cats, Remakes and Cheap Thrills: From the nerdgasm of the 'Sith' to a big-screen 'Bewitched,' the summer movie season proves once again that Hollywood doesn't know the meaning of the term 'lowest common denominator.'
Gonna Hang Out with My TANQ Out: The summer concert season offers multiple opportunities to rock out, chill out and zone out.
Burning Up the Boards: The not so lazy hazy days of summer theater.
Festival List: From festivals to fairs to race cars in downtown San Jose, there is something better than TV to do every weekend from Memorial Day to Labor Day and beyond.
News: On Your Record:
Art Main thought his criminal record was ancient history—until it blocked him from getting a job.
The Fly: No Stapler for You!



Silicon Alleys: A New Spin on Neighborhood Art.
Techsploits: Burn Your License.
Rev: All Things Motorcycle: Part 2: 'If everyone would remain calm, offer a little more courtesy and kindness, and smile more, then everyone would have a better life'



Blowed Up Real Good: The combustive impact of 'Hitchhiker's Guide.'
Oh, Israelites: San Jose's Israeli Film Festival includes the coming-of-age drama 'Turn Left at the End of the World.'
Knightmare: 'Kingdom of Heaven' is not-so-great Scott.



Holiday in Cambodia: Dengue Fever forges on in face of language barriers and terrorist sweeps.
Natural High: Two bongs up for Bay Area stoner metal heroes High on Fire.



Chuck Amuck: Chuck Palahniuk probes for a visceral response in his harrowing new novel, 'Haunted.'



Visit Vietnam: The Grand Century Mall is Silicon Valley's most surprising link to Vietnamese cuisine.
Live Feed: T.G.I. Wednesday: The Bruni Digest.
5 Places to Love: Time-Proven Silicon Valley Restaurants.



Trouble In El Paso: Teatro Visión winds up its 20th season with Octavio Solís' furious family drama 'Santos & Santos.'



Please don't forget to write! Metro welcomes letters. Like any great work of art, they should be originals — not copies of letters sent elsewhere. Include address and daytime phone (for verification purposes only). Letters may be edited for length and clarity or to correct factual inaccuracies known to us. Postal: Metro Letters, 550 S. First. St., San Jose, CA 95111. Fax: 408/298-0602. Email: letters@metronews.com. Emailers, please include name, city of residence and phone number. Letters printed will list email address unless otherwise specified. Letters to the editor are not currently published in the online version of this paper.