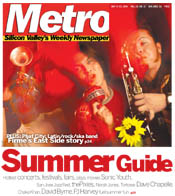 For the Week of
May 19-25, 2004
Cover Story: East Side Story:
When you come from the East Side, negative assumptions about the area become part of your DNA. Latin reggae/rock/ska band Firme seeks to change that.
Summer 2004 Guide: The hottest concerts, festivals, fairs, plays, movies and more.
Concert Highlights
Concert List
Stage
Festivals
Movies
News: Technology Happy
Times are tight, so why did a money-strapped school district pay thousands of dollars extra for computers?
The Fly: This week's political bites.



Biter: It's getting late for the Coalition of the Willing.
Techsploits: There's a cool machine called GNU Radio--but you're not allowed to buy it.
Rev: Is your vanity plate too hot for the DMV?



Dolefully Adequate: Guy Maddin's new film, 'The Saddest Music in the World,' rails against the death of music.
Dungeon: In 'Carandiru,' Hector Babenco goes behind the walls of Brazil's notorious prison.
Nailed Again: Not a Mel Gibson film--Monty Python's 1979 'Life of Brian' is resurrected, and not a moment too soon.
Monster's Ball: 'Shrek 2' is heavy on the inside jokes but still a treat.
Santana Summer: Picnic, Popcorn and Picture Show season continues at outdoors at sundown at Santana Row.



Start Me Up: How Latin jazz guitarist Scott Whitney used his marketing and sales background to create a music career.
Aural Fixation: The White Stripes' Jack White produces country legend Loretta Lynn's latest, 'Van Lear Rose.'
Club Life: Delux at Moorpark Hotel in San Jose.



How Green Is the Valley: With a new Rosie McCann's opening on Santana Row, the Irish scene is gettin' jiggy.



Point-Blank Musical: City Lights stages an intimate new production of Stephen Sondheim's scandalous musical 'Assassins.'
Shoes Muse: Carol Halstead's one-woman workout, 'Bad Dates,' moves from laughs to insight at SJ Rep.



Please don't forget to write! Metro welcomes letters. Like any great work of art, they should be originals -- not copies of letters sent elsewhere. Include address and daytime phone (for verification purposes only). Letters may be edited for length and clarity or to correct factual inaccuracies known to us. Postal: Metro Letters, 550 S. First. St., San Jose, CA 95111. Fax: 408/298-0602. . Emailers, please include name, city of residence and phone number. Letters printed will list email address unless otherwise specified. Letters to the editor are not currently published in the online version of this paper.