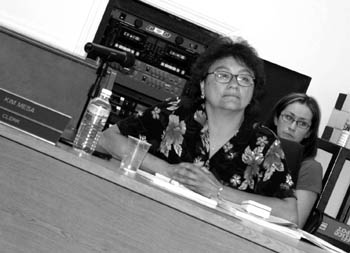 Technical Oversight: Alum Rock board trustee Kim Mesa was among the first to spot considerable price gaps in large computer purchases.

Technology Happy

Times are tight, so why did a money-strapped school district pay thousands of dollars extra for computers?

By Najeeb Hasan

THE ALUM ROCK UNION School District may be one of the valley's most financially challenged school districts, but the district's staff certainly doesn't cut any corners when it comes to technology.

Rather, a look at two recent computer purchases by the district reveals that Alum Rock may have spent close to $150,000 more than it had to--no small amount for an urban district that has experienced more than a decade of financial troubles and sent layoff notices to 400 employees last month.

Before a board meeting last May, Alum Rock trustee Kim Mesa spotted a suspect item on the agenda. The item, sandwiched into a larger order by the district, was for the approval of purchasing computers for Pala Middle School.

In all, the middle school requested 30 desktop computers and 30 laptops. Board members were informed the purchase would cost $89,234, while the total cost for purchasing computers (which included several other schools in the district) would be $373,196.

Mesa, however, was tipped off from someone who complained to her that Pala was asked by the district to spend more than it should on computers.

"That is true," Mesa responds when asked about the incident. "The proposals are usually included in the packets that we get. I did notice that there were in fact cheaper bids included in the packet. The district recommendation was to go with Dell computers, which was the higher bids. I did not support that."

Mesa's eye for detail paid off. After receiving the supporting documentation for the Pala purchase, Mesa discovered that Alum Rock was purchasing Pala's computers for $89,234 through Dell but could have acquired comparable equipment from another vendor, such as HP (which sells Compaq PCs) for thousands of dollars less. According to documents filed at Alum Rock headquarters, the district could have bought computers from Compaq through state-collected bids for the Pala purchase for about $70,000, $20,000 less than what the district paid for the computers. Meanwhile, the district chose to go with Dell for the entire $373,196 purchase, which included 281 computers for five different schools. Unknown to Mesa at the time (because she had only been tipped about the Pala purchase), the school district could have saved more than $50,000 if it had instead opted for the Compaq prices.

Further, one of the more befuddling aspects of the situation was that HP was offering more incentives than Dell, including better educational software, warranties, trade-in offers and its bonus program, which would have allowed the district to acquire more equipment at a cheap price.

"One of the things they talked about was that they wanted to standardize the computers throughout the district," explains Mesa. "What I stated at the time, buying computers is like buying a washing machine. I can buy it at Sears, Circuit City or Fry's, and I can get Whirlpool washers at all three. Considering the huge budget constraints. I was concerned that we weren't being fiscally responsible. I was looking at what some other vendors were offering and comparing that to what Dell was offering. One of the other bidders was doing more than Dell and was also far cheaper than Dell. It was a matter of several thousand dollars--a couple hundred dollars here or there wouldn't have made a difference to me."

While Mesa protested the extra spending during a board meeting May 28, the trustees would eventually vote to approve the entire purchase, mostly because of the fear that the state would take away the funds if they weren't used. However, Mesa's complaints would ring true the next year. Pala, a state-monitored school, received a report from the state's School Assistance and Intervention Team last February that blasted the school's technology plan in its findings. "Approximately 75 percent of all categorical funds are allocated for technology-related programs, materials and training," the report reads. "There is no evidence that this allocation supports state-board-approved, standards-based instructional programs."

Mike Lyons, the principal of the school, would not return calls to discuss the findings of the report.

And just months after the Pala purchase, Alum Rock would again make the decision to spend more money on Dell computers. Nancy Pang, the district's grants coordinator, won a technology grant for Alum Rock that required the purchasing of new computers. Again, HP quoted a lower figure for Compaqs through the HP Education Big Deal program, offering to sell laptops to the district for about $978 a piece. Instead, Alum Rock ended up buying 216 laptops through Dell for $289,731 last December. Had the district accepted the HP offer, it would have paid $211,330, which would have given the district a savings of $78,401. Those familiar with the situation say Pang had initially leaned toward the HP offer but was told by both the district's chief technology officer and superintendent that she would have to go with Dell. Pang, though, declined to comment. (The dollar amounts are rough estimates. Alum Rock administrators contend the dollar amounts are inaccurate but provided no comparative data of their own.)

Bandwidth

The Alum Rock School District, much like any other district, has its share of in-house critics who grumble their complaints cautiously, from the sides of their mouth. The rule that they subscribe to is simple: While light must be shed on the shortcomings at Alum Rock, everybody must, likewise, tread carefully--otherwise the school district, one of the county's poorest, will be referred to (as it has been in the past) as "those idiots at Alum Rock."

And so, for the Latino district at the edge of town it often comes down to a choice between making sure things get done correctly and making sure they aren't the laughing stock of the county. The consequence, of course, is that information tends to trickle out, if it does at all, at a snail's pace.

Indeed, the district office never supplied clear comparative data about the computer purchases to Metro. Instead, the comparison between Dell and Compaq had to be cobbled together from scraps of information.

Louis Nguyen, the district's young chief technology officer, has already irked many regulars at the district during his short tenure at Alum Rock--most recently for his costly initiative to revamp the district's networking systems, after the district just completed a three-year Internet and networking project. ("How much bandwidth is required to make a school successful?" a community member had complained at the time.)

Nguyen, who followed Alum Rock Superintendent Alfonso R. Anaya from the Alisal Union School District in Salinas to San Jose, describes the decision to go with Dell over Compaq as congruent with the district's master technology plan. "As any other large organization, we need to have standards," Nguyen says. "We made a conscious decision in the technology plan to standardize to Dell and Apple. Dell [as opposed to Compaq] has better service and support. It eliminates the middleman. There's only one finger to point when you have a problem."

Nguyen explains that the district buys its computers through state-solicited bids and, thus, cannot control the price of bids. But though Nguyen is correct in that the bids are state-solicited, the state routinely offers a choice of more than one vendor as was the case with Dell and Compaq.

"When a comparison was done financially from unit to unit, the pricing was significantly different between Compaq and Dell, to the tune of that they could get two systems for the price of one Dell," retorts one person who knows about the district's history with computers. "However [Nguyen] began to oversee all purchases for computers. He began to make it a policy that they would only buy Dell under the premise that they were standardizing computers. It was brought up several times, questioning why we are spending so much on computers when we could be buying an equivalent system at a much better cost. The explanations were never sound. I didn't make that decision. I was told that it was coming down from Nguyen that they would only buy Dell."

Another person from within the district agrees. "We need to make the most out of every dollar," the official says. "We really have to be very responsible about how to spend. Technology is a great thing to see, a great thing to bring into the schools, but when times are tough, if you need a car, you buy a Honda because it's good on gas. You don't go out and buy a Hummer."
---
Send a letter to the editor about this story to letters@metronews.com.
---
[ Silicon Valley | Metroactive Home | Archives ]