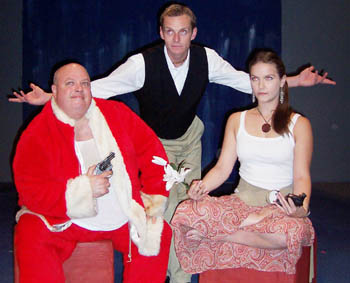 Photograph by Susan Slone

The Squeaky Wheels: E. Dale Smith's Balladeer oversees the desires of Samuel Byck (George S. Gemette) and Squeaky Fromme (Halsey Varady).

Point-Blank Musical

City Lights stages an intimate new production of Stephen Sondheim's scandalous musical 'Assassins'

By Rob Pratt

MAYBE IT'S all the gunshots that rattle theater audiences. Or the creepy love ballad sung by a pair of infamous psychotics. Or the uncomfortable subject matter: presidential assassination. Whatever the reason, the Stephen Sondheim/John Weidman musical Assassins, which opened last month in a Broadway revival and quickly garnered a handful of Tony nominations, rarely leaves audiences on their feet cheering. More likely, it leaves them with heads reeling amid uncomfortable questions about the American national character.

Such was probably the case when Assassins premiered locally as part of the 1992-93 season of San Jose Musical Theater (a predecessor of American Musical Theater of San Jose). Audiences stayed away in droves. That's not a problem for City Lights Theater Company, which opens its production of Assassins this week.

Neither is it a problem that the show's subject matter--political violence--might touch a few raw nerves among theatergoers who have witnessed gruesome acts of political terror aimed at the American public during recent weeks. "One of the reasons artists do anything is if you say don't do it," explains Kit Wilder, who directs the City Lights production. "Artists are like teenagers that way."

Teenagers, though, have an uncanny knack for turning a critical eye on the world they inherit from their parents. Maybe, as America faces the consequences of its actions in foreign affairs and considers the future of the nation during the run up to a presidential election, the time is exactly right to ask the uncomfortable questions that Sondheim and librettist John Weidman pose in Assassins.

A Star-Crossed Show

During its 14-year history, Assassins has endured a spate of bad timing. The show premiered in a small off-Broadway theater at the height of the Persian Gulf War and closed after mixed reviews and a paltry (though entirely sold-out) 73 performances. After a successful London run during the early 1990s, which included a new song that provided a measure of emotional relief from the dark subject matter, the show was finally set for a big revival on Broadway.

Rehearsals were to begin during September 2001, but Assassins never got to a first read-through. The production was canceled days after the tragedy of Sept. 11. "Nothing about the circumstances could possibly be described as lucky," Weidman told The New York Times in an interview conducted before the show's recent Broadway opening. "But on some level, people are open, in a way that they were not 13 years ago, to material that raises questions without giving simple answers."

Sondheim's most controversial work in many ways plays like a stereotypical musical. There's a John Philip Sousa-like march, a melancholy love song and a big, moral-of-the-story finish with an anthemic refrain: "Everybody's got the right to their dreams!"

But Sondheim rarely lets an audience out of the theater without posing uncomfortable questions--or at least a thought-provoking juxtaposition or a surprise twist ending. In Assassins, the Sousa march--actually a pastiche of several Sousa marches--is sung by a man with a sour stomach who tried to kill Franklin Delano Roosevelt, and by the crowd who witnessed the whole thing.

John Hinckley and Lynette "Squeaky" Fromme sing a heartfelt love song to the objects of their psychotic obsessions: Jodie Foster and Charles Manson, respectively. And this collection of scoundrels and crazies who have fired on an American president join together for an upbeat finale.

This showstopper (literally) isn't a riotous send-up akin to "Springtime for Hitler" from The Producers. It's a haunting send-off meant to leave audiences with furrowed brows instead of laugh lines.

The message of the show may be difficult for Americans to hear, but Wilder thinks the present moment is "the perfect time" for Assassins. "The play is about the gimme society, and [the character] the Balladeer reminds us about it all night long," Wilder notes. "The play is about 15 minutes of fame and about the futility of radical action. And in a convoluted way, it celebrates our recovery from these tragic events. What these people are trying to do is bring down the society--and that doesn't happen. We recover from it."

Assassins also takes an unvarnished look at the American propensity for fame seeking. All of the assassins in the story, from John Wilkes Booth to John Hinckley, undertake dramatic action as a means to get noticed. These few, though, are easily dismissed as crackpots. Not so easily dismissed are the normal people who witness Giuseppe Zangara's assassination attempt on Franklin Roosevelt and who, breathlessly and enthusiastically in Sondheim's musical rendering, relate what they saw as if on-camera for CNN.

Even these unwitting normal people earn an affirming thrill from being involved in a historic event, however tragic that event may be.

"Assassins is the one of all Sondheim's works that he calls his most perfect work," Wilder adds. "The song ('Something Just Broke,' included for the London and current Broadway productions) weakens the play. It's derivative; Sondheim is repeating himself." Accordingly, Wilder aims to present Assassins as it appeared in the 1990 original.

Even so, Assassins will likely unfold in a vastly different way for today's audiences. In 1990, Americans had no experience of terrorism at home. They probably couldn't imagine that anyone except a crackpot--like would-be assassin Samuel Byck, who planned to kill Richard Nixon by hijacking a 747 and flying it into the White House--would use an airliner as a weapon of mass destruction.

"The show isn't overtly political, but it is unabashedly American," Wilder says. "This play is not an easy one for audiences, and we're not going to say that we're making it more palatable than it would otherwise be."
---
Assassins, a City Lights Theater Company presentation, plays Thursday-Saturday at 8pm and Sunday at 7pm, May 20-June 26, at City Lights, 529 S. Second St., San Jose. Tickets are $15-$30. (408.295.4200)
---
---
Send a letter to the editor about this story to letters@metronews.com.
---
[ Silicon Valley | Metroactive Home | Archives ]