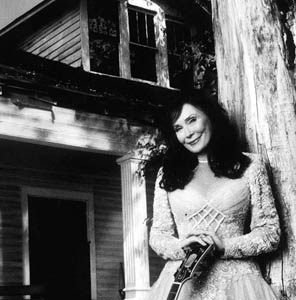 Photograph by Russ Harrington

Loretta Lynn is the Belle of Butcher Holler.

White's Rose

The White Stripes' Jack White produces country legend Loretta Lynn's latest, 'Van Lear Rose'

By Sarah Quelland

IT'S ONE of the most fascinating unions since Quentin Tarantino declared Uma Thurman his muse. Much as the latter's film collaborations have inspired a cult appreciation of matinee-style kung fu, spaghetti Westerns and '70s action flicks, this partnership should introduce a generation of young rock fans to the music of a 69-year-old (give or take) Grand Ole Opry legend from the hills of Kentucky.

The White Stripes' Jack White jumped at the opportunity to produce Loretta Lynn's new album, Van Lear Rose (Interscope Records). The teaming isn't as far-fetched as it might sound. In fact, it's been a long time coming. White has made no secret of his affinity for early country music. Live, he covers Dolly Parton's "Jolene," and the Stripes recorded Lynn's "Rated X" as the B-side to the single Hotel Yorba. If that's not enough, the White Stripes dedicated their debut, White Blood Cells, to Lynn.

As producer, White insisted that Lynn write every song on the album. After he arranged the music and assembled the players, the songs were recorded organically--live, one take, no overdubs--over a matter of weeks in a house in Nashville, Tenn.

White's most obvious contributions can be found on the spoken-word piece "Little Red Shoes," which finds Lynn sharing a childhood memory over the backdrop of his riveting guitar playing, and on his duet with Lynn, the big, loud and rowdy drunken drama "Portland, Oregon," a mysterious encounter fueled by sloe gin fizzes. Beyond that, like a photographer working with his favorite subject, White uses his title to bring out the very best in Lynn and capture her as honestly, spontaneously and beautifully as possible.

Family plays a big role on Van Lear Rose. On the title track, the Coal Miner's Daughter remembers her mother as the "Belle of Johnson County / Ohio River to Big Sandy / A beauty to behold like a diamond in the coal." She mourns her late husband Doo on the aching "Miss Being Mrs." singing, "How I loved them loving arms that once held me so tight / I took off my wedding band and put it on my right hand / I miss being Mrs. tonight."

Better days come into play on the autobiographical "Story of My Life," which celebrates her Kentucky heritage, family and career. She tells it with a down-home sense of humor: "Some big shot from Hollywood thought a movie about my life would be good / It was a big hit, made a big splash / What I wanna know is what happened to the cash?!"

In the late-1960s, Lynn became a pioneering voice in country music. Songs like "You Ain't Woman Enough," "Fist City" and "Your Squaw Is on the Warpath" demolished any notions that she played the role of the weak and subservient little woman. She was feisty, independent and willing to go toe-to-toe with any man. That strength of conviction proves a constant in new songs like "Family Tree," which details a confrontation between a man's wife and mistress. Tough and proud as ever, Lynn says, "No I didn't come to fight / If he was a better man, I might," and swears, "I wouldn't dirty my hands on trash like you." Not only did Lynn write her own songs, but she penned a few for others as well. If "Have Mercy" sounds like an Elvis song, it's because Lynn wrote it for the King shortly before he died. Having tucked it away for almost 30 years, Lynn finally decided to go ahead and record it herself for this album.

Though most of her songs speak from personal experience, she puts herself in another's shoes on "Women's Prison," a serious song about a woman sentenced to die for shooting her cheating husband. Similarly fictitious, but far less solemn, "Mrs. Leroy Brown" describes a woman on the rampage and relates, "I've been in and out of every honky-tonk in town / And I'm almost drunk from the drinks that I've turned down." The Western pop song turns ominous when she starts plotting her revenge on the blonde messing with her man.

"God Makes No Mistakes," "Trouble on the Line," "This Old House" and "High on a Mountain Top" only add to this classically cool country album. While the producing credit does add to White's credibility, he's not the star here. Reflected through his eyes, Lynn gets all the glory, and she shines like a diamond in the coal.
---
Send a letter to the editor about this story to letters@metronews.com.
---
[ Silicon Valley | Metroactive Home | Archives ]