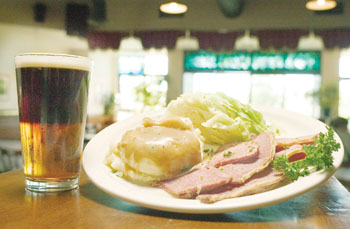 Photograph by Stephen Laufer

Monster Mash: Rosie McCann's hearty servings have proven popular in Santa Cruz; now, San Jose gets its very own corned beef.

How Green Is the Valley

With a new Rosie McCann's opening on Santana Row, the Irish scene is gettin' jiggy

By Jessica Neuman Beck

HERE IN Silicon Valley, we may make jokes about "culture" that comes from Santa Cruz, but when it comes down to it, we're not above importing a little social lubrication from our sunny-natured neighbor. Santana Row is about to get some Santa Cruz-style pub action, in the form of a new Rosie McCann's that will open its doors on June 1.

For nine years, Rosie McCann's Irish Pub & Restaurant on Santa Cruz's Pacific Avenue has been a popular place for locals to let their hair down. Maybe it's the $3.50 well drinks at happy hour or the enormous sign proclaiming "Cead Mile Failte," which means "100,000 welcomes" in Gaelic. Thursday nights find the restaurant, located up a narrow flight of stairs, packed with revelers ready for a night on the town.

"For some reason, all the students like to go out on Thursday night," Rosie's manager Mike Tosney says, "and they all congregate here."

For sustenance, Rosie's offers traditional hearty pub food, including such favorites as bangers and mash (Irish sausages with mashed potatoes and peas, $8.95), a corned beef and cabbage plate with house-made Guinness gravy ($9.95), salmon fish and chips ($10.95) and New York steak and potatoes, again with the Guinness gravy ($14.95).

"We offer only wild salmon on our menu," says Tosney, "and all of our steaks are certified Black Angus."

In the past few months, the menu has undergone some subtle changes, as Rosie's has hired consultant Paul Salazar to ease the transition to the new restaurant.

"We hired an executive chef to help with the menu," says Tosney. "He's also helped us here in Santa Cruz to add some recipes and new sauces and stuff like that."

Tosney is quick to add that almost all the dishes have remained the same. After all, they must be doing something right. "We just improved our menu in a few areas," he says. "No drastic changes here."

The new restaurant promises more of the same, but don't expect a carbon copy of the Santa Cruz restaurant; the Santana Row location needed to be a little more swank to fit in with restaurants like Left Bank Bistro and Amber India.

"The new location is wonderful. It looks like a Victorian Irish pub," says Mina Shamsaei, Rosie's owner since 1997. "I've traveled through Europe quite a lot, and I have seen hundreds of Irish pubs around the world. Most of the U.S. pubs are not very Victorian. They are more down-to-earth, not very sophisticated."

Shamsaei's vision was perfect for Santana Row. She brought in architect Mark Stevens from Architecture and Light to design the restaurant--and interior designer Eugene Anthony to decorate it. The new Rosie McCann's evokes the 19th century, complete with a custom bar.

Boutiques like Gucci and Salvatore Ferragamo may be a little more upscale than most San Jose shoppers are used to, but the dining scene is taking off like a shot, and Rosie's hopes to add to the village atmosphere at the posh shopping center.

"It's a little more upscale," says Tosney, "but it's still an Irish pub, with that casual pub feel to it. Santana Row needed a more casual kind of dining place, someplace where you could kind of let your hair down."
---
Rosie McCann's Irish Pub & Restaurant
Address: 1220 Pacific Ave., Santa Cruz; coming soon to Santana Row in San Jose
Hours: At Santa Cruz location, 11:30am-11pm daily (open at 9:30am Sat-Sun for brunch); the bar closes at midnight Sun-Wed and at 2am Thu-Sat
Phone: 831.426.9930
---
---
Send a letter to the editor about this story to letters@metronews.com.
---
[ Silicon Valley | Metroactive Home | Archives ]