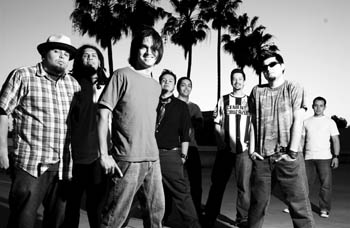 Photograph by Dave Lepori

Firme.

East Side Story

When you come from the East Side, negative assumptions about the area become part of your DNA. Latin reggae/rock/ska band Firme seeks to change that.

By James Espinoza

THERE'S A couple of kids, on the block of 33rd and Alum Rock, who have a habit of sitting on their skateboards right in front of Christian Vela's Van Gogh-decorated house. They sit fully engaged, ignoring the chicharrones vendor continuously honking the horn on his cart and the patrolling ice cream truck with the looped circus jingle. Instead, their ears are glued to the eclectic sound blasting from the back garage, the rehearsal room for the East Side band known as Firme. The first time Christian and fellow band members noticed the kids, they went up to them and asked, "What are you guys doing?"

"We just like to sit here and listen," they responded.

The members of Firme smiled, for they also like to take the time to listen. Lounging on the front porch, having a Tecate or two during a rehearsal break, the East Side comes to life--cars cruise down the street bumping Banda Recodo, a pair of comadres share their chismes as they carry the groceries from the carnicería, and from the bus stops around the corner, the tired footsteps of countless workers walk the last leg home.

The latter is of particular relevance to the band. As musician offspring from working-class families, the everyday hustle is a world they embrace. In fact, the band partly chose its name to reflect the resilience of East Siders. Literally, in Spanish, "firme" means "strength." Obviously, the stigmatized barrio is not Firme's East Side.

"A lot of people, when they think of the East Side, they think of violence and ignorance and cholos and that's all there is to it," complains Firme bassist Danny Maldonado.

For Firme, there is a lot more to it. The East Side is a place of backyard carne asadas with friends and family, community meetings by concerned citizens at the Tropicana, afternoon hoops at the brown-backboarded Plata Arroyo Park or simply having a couple of kids from the block listening to them play.

For this reason, the band proudly flaunts its roots. The core of the eight-member group grew up in the barrios of the East Side and ultimately has nothing but love for it.

"We're from the East Side, and we'll always represent the East Side. That's home."

And although their heart is in the East Side, their musical prowess spreads worldwide. Nobody seems to be able to pinpoint exactly what type of music Firme play. Their sound can only be described with a series of slashes, something along the lines of Latin/reggae/rock/ska.

"People see the size of our band and the fact that we have horns, and they automatically think we're a ska band. Then they hear us and they're taken aback. All I know is that there is always at least one song that grabs you. No matter what type of music you're into, you'll find something in Firme you like," explains Christian.

"Yeah, I guess we're just a big mix, like musical diarrhea," adds drummer Eric Loera as everyone busts up laughing.

No Mames

Random outbursts of outrageous humor are law for the guys of Firme. Like their music, they are pretty damn good at it and take every opportunity to clown each other and the world around them. Between them, there is a contagious vibe of Chicano brotherhood--barrio carnalismo--years in development since the time guitarist Christian, bassist Danny and drummer Eric first met as rug rats in the East Side apartment complex of Rancho Verde.

For keyboard player Tom McClure and vocalist/songwriter Bobby Jimenez, the newest members of the Firme familia, this sense of carnalismo was an instant attraction and opportunity to enhance their musical talents. Hailing from Texas, Tom spent time dabbling with all types of bands. In Firme, he saw the opportunity to combine all these experiences.

"When Tom came in and auditioned, he blew us away. Right then and there we adopted him as our Mexican brother. He hasn't been white since," the band members jokingly recall.

Like Tom, Bobby also recognized a musical opportunity in Firme, an evolution to his already established vocal versatility. As the lead singer for various cover bands, he had become a master at morphing his voice to suit the needs of reggae, rock and pop. Yet he was tired of singing other people's music and yearned to write and explore his Latin influences. Luckily for Bobby, exploring is just what Firme is about.

The band consciously deviates from the established role of contemporary Latino-American music. Out is the bubblegum pop of the Ricky Martins and the hardcore rap from the streets. Firme comes from the musical school of bands like Los Lobos, Café Tacuba and Ozomatli. Firme uses traditional Latin rhythms and Afro-Cuban beats as a foundation, and from there it reaches out to diverse genres. In the case of Firme, it dwells in the realm of ska, reggae and rock to produce a unique worldly sound that could only be defined as, in classic Chicano slang for cool, firme.

"Yeah, that's also why we chose that name for the band. You know, like when you say, 'Damn, that's a firme ride.'"

Wrong Side of the Tracks

Most of the members of Firme grew up in the part of east San Jose referred to as Sal Si Puedes--Get Out if You Can. According to residents, the candid motto developed as a description of the area's history, a migrant settlement where agricultural workers rarely found the opportunities and social mobility they searched for in this county.

Bordered by the streets of King and Jackson to Alum Rock and Story, Sal Si Puedes encompasses the low-income apartments that Christian, Danny and Eric roamed as kids. The Rancho Verde apartments, commonly called Checkers for the street that divides the huge complex, still display the struggle of barrio life. The streets are lined with an endless stream of parked cars, a clear sign of the crowded condition. In a single unit, two full families may reside in order to make ends meet.

This hard-knock struggle serves as inspiration to Firme and mirrors a philosophy of survival they have adhered to from the beginning, an inheritance from their families.

"They always told us that if we wanted something bad enough, we had to chingarle [bust our asses]."

Many times, they also had to improvise, like the time Christian and Danny went out looking for their first instruments as kids. Guitar Center was out. "We wanted to play real bad but didn't have the means to get a guitar, a bass or an amp. So we went to the swap meet, the Berryessa swap meet--that's where we first got our stuff."

For Eric, barrio economics meant teaching himself to play the drums and recycling plastic milk crates as stands. He also remembers the band's first rehearsals in a crammed apartment. Eric would set his bed aside to save space and other members would play from the hallway.

If space and dollars were bumps in the road for a young Firme, the lack of welcome mats for their diverse and genre-mixing style was and continues to be a frustrating roadblock.

"I don't know, man. I don't know why sometimes we just don't get any love," Christian bluntly states. Especially during their years at Independence High, Firme found it difficult to find a network for their music.

"I don't want to categorize," Christian elaborates, "but it's the truth. There have always been cliques in the Bay music scene. Bands from places like Los Gatos and Campbell stick together in their own circles."

The only place Firme could make any headway was in the East Side house party scene, but even within that movement the band felt a sense of marginalization since the scene was heavily dominated by rap.

"Everybody was listening to rap, and everybody was trying to do the rap thing," Christian says. "When we would go up there, people were confused. But little by little, we won a lot of people over. We created a fan base in these parties."

With a growing number of followers, Firme came to understand they were doing something special and pressed forward. Along the way the band seems to have acquired a reoccurring theme--isolation and the search for communion. Whether it's merging sounds of different genres or lyrics dealing with unmatched love, Firme is about giving voice to the abandoned side and making sense of differing perspectives.

Fast Forward

Firme's relentless confidence has wedged a certain level of interest in the band. In 1999, its debut album was honored with a California Music Award for Outstanding Rock en Español. Yet the band argues this album is second-class compared to its upcoming release.

"When I listen to our first album," Christian said, "I sometimes cringe. It's good and all, but our sound was immature. This new album is going to show a more musically developed Firme--really heavy reggae, really heavy Latin and really heavy rock that you can rock out to."

Take one of their latest composed songs, for example, fighting for a spot on the album's roster, called "Besame." The cut begins as a classic cumbia jam, the type of stuff rummaged from pop's old Sonora Santanera vinyls. Here one clearly feels the influence of traditional Latin rhythms and beats, homage to some of the bands' immortal brown heroes like Poncho Sanchez and Arturo Sandoval.

For saxophonist Jafid Moran, traditional Latin music served as a soundtrack to his upbringing. As a child, he traveled the stereotypical wedding/quinceañera circuit with his father's cumbia and banda group.

"That's how I learned to play my first instrument--the cow bell," Jafid expressed with a nostalgic sense of humor.

The "Besame" track doesn't simply follow its traditional outline, though. With Frank Graciano hammering the conga drums as a backdrop, Firme's eclectic signature is delivered by a catchy guitar riff. Like a cleverly constructed Edgar Allan Poe plot, "Besame" inconspicuously transforms into a rock thriller entitled "Chemistry," paying respects to another spectrum of Firme's influences--Zeppelin, early punk, and '80s metal.

With such creative jugos flowing, Firme will be hitting the studios to record the album in May and hope to have it out by late summer. And things are looking even better. With a management contract in the horizon, Firme's new album may just be available at the common record store
near you.

Break On Through

On the night of April 19, Firme's promise that there is something in its music for everyone came to a test. The band headlined a gig at the Mediterranean Club in Aptos. This beach town is not more than 40 miles away from the barrios of the East Side, but culturally, it's a galaxy away.

With a glance around the denlike Mediterranean Club, the cultural gap became evident. On one end stands a guy sporting typical country & western gear--a cowboy hat and a heavyweight championship belt buckle. In the middle of the floor, a professional looking dude tries to surreptitiously hotbox a joint he just received from his hippie, tie-dye-wearing friend. And at the front of the club, crowded by the bar, a group of white middle-aged beach couples bob to the rhythm of Salinas reggae band Dubwize.

"I love it, man. I love the diversity," Christian says, after being asked about the night's crowd.

Despite their love for the audience, the band clearly senses tension, a feeling they say always comes before a show. For Christian, it manifests itself on the web between the index and thumb of his guitar strumming hand. He massages out the nervous knot while Firme trumpet and timbales player, Sergio Bernal, meticulously tunes his trumpet in the dark hallway.

Finally, Firme takes the stage. For show, saxophonist Jafid gives his back to the crowd and an anticipating silence conquers the Mediterranean for a split second. Then Firme erupts with an explosion of energy that would make Red Bull jealous.

The band begins its set with an upbeat reggae-influenced song instantly luring the crowd to bombard the dance floor. The band pulls out the repertoire from its mixed bag, including a remake of the classic Latin song "La Negra Tomasa." They love the reaction of a crowd when they throw in another random rendition of a retro favorite.

"It's a treat for the fans of Latin music, for those who grew up listening to the stuff. For a while we played our version of 'La Bamba,' and some people still ask to hear it at our shows."

The crowd from Aptos was down with the East Siders as well, staying on the dance floor regardless of the genre Firme experimented with. With this type of people-unifying effect, it's not really about "getting out if they can," but rather how far Firme can go. And no matter how far, there's going to be some East Side right there with them. Now that's firme.
---
Send a letter to the editor about this story to letters@metronews.com.
---
[ Silicon Valley | Metroactive Home | Archives ]