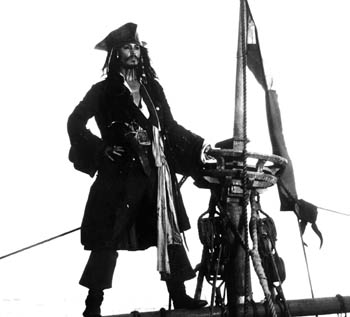 Photograph by Elliott Marks

Crow's Nester: Johnny Depp sets sail in 'Pirates of the Caribbean,' the first selection in this year's Picnic, Popcorn and Picture Show series.

Santana Summer

Picnic, Popcorn and Picture Show season continues at outdoors at sundown at Santana Row

By Richard von Busack

THE CROWDS found out about the free Wednesday movie series at Santana Row, so now it's necessary to arrive early to get a seat. The screenings take place now through late summer at Park Valencia, the square facing the Olin Street gate. There's a small xeriscaped garden to enjoy, as well as a plaza nearby where the projection equipment is set up. When the summer heats up, sitting in this replica Italian square will be as close as you can get to Europe without paying for it. The management encourages picnicking, which means that you too can boast to your co-workers that you had dinner at Santana Row. They don't have to know it was just popcorn bought on the spot.

Watching a movie outdoors is an early memory for a lot of adults, who were too young and fussy to be taken to a "hardtop." Seeing a film laid out against an evening sky imprints a kid early with the magic and power of cinema. So these outdoor movie screenings are perfect for children. (The perennial Gypsy Cinema outdoor series in downtown San Jose runs every Friday starting in mid-July; more on that later.)

These outdoor screenings are also the perfect place for a first date: (1) because comedies are always best for such terrifically uncomfortable situations, and you want to make sure your intended knows how to laugh, to (2) also figure how cruel their sense of humor is, (3) because there's a crowd around (you always want to meet a stranger in a public place, first), (4) because there's no investment involved, and no one wants to complicate the early stage of the courtship with the haunting thought of money spent, (5) despite how much the Cineplex and the handheld DVD player have done to reduce the glamour of movies, there's still something eerily intimate about sitting next to a stranger in the dark, but being outside in the open air defuses that feeling (6) and when the movie's over, the night's still young.

The summer's film calendar starts May 19 with Pirates of the Caribbean: The Curse of the Black Pearl and includes a mix of some of the more lauded comedies of the past years: no traditional drive-in fare, unless you count the attenuated hot-rod picture Gone in 60 Seconds (June 2) and the monsters in The Addams Family, with Angelica Huston a treat as the goth matron Morticia Addams (June 16). Moonstruck (July 28) is a cozy Brooklyn Heights version of Italian realism that stars Nicolas Cage as a maimed baker in hopeless love with his brother's wife (Cher). Aug. 11's A Fish Called Wanda is a pleasure in itself, with John Cleese at pretty close to his peak, teemed up with Michael Palin, the one person who can still make a speech impediment funny.

Seabiscuit (June 23) and Spider-Man (June 30) could get dismissed as facile crowd pleasers, but the truth is that truly populist movies aren't as common as they ought to be. It's relatively hard to get San Jose citizens out of their cars. If the gas prices don't do it, the Picnic, Popcorn, and Picture Show series will.
---
Picnic, Popcorn and Picture Show runs Wednesdays at sundown May 19-Aug. 25 outside at Santana Row. They won't show the movie if it rains, so don't ask.
---
---
Send a letter to the editor about this story to letters@metronews.com.
---
[ Silicon Valley | Metroactive Home | Archives ]