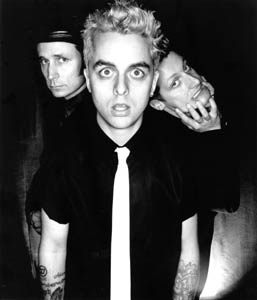 Photograph by Marina Chavez

Green Day to accept the Spirit of Rock award.

Taking It to the Streets

The California Music Awards are free this year

By Sarah Quelland

UNABLE TO COMPETE with the red-carpet prestige of the Grammy Awards or the MTV Music Awards, the California Music Awards (formerly the Bammies) are taking a new approach this year. With an outdoor festival format, admission is free to the 26th-annual gala ceremonies scheduled for this Sunday (May 25), noon-6pm, at the Frank H. Ogawa Plaza and City Center in downtown Oakland.

Green Day will receive the Spirit of Rock award, and bassist Larry Graham will be given an honorary award for his work with Sly and the Family Stone and Graham Central Station. Lenny Williams, Jimmy McCracklin, Lady Bo and Sugar Pie DeSanto will be similarly honored. The day's events include performances by the Oakland Interfaith Gospel Choir plus various nominees, including Ledisi, Luce, Chuck Prophet, Audiovent, Jackie Green, Goapele, Ronnie Stewart, Jennifer Turner, Scott Amendola and Jenna Mammina. In keeping with the tradition of past years, which have seen Green Day, Sammy Hagar and Steve Harwell make surprise appearances, the CAMAs hint at special guests. Gearing up for the release of St. Anger and with that four-night run of fan club shows at the Fillmore, Metallica makes for a likely suspect.

INNER EARACHE: Stikmon and his business partners Craig Yamato and Alyssa Smith are still working with the city of San Jose to get the green light to move forward with their plans to open the Earache My Eye Performance Art Center at Taylor and Ninth streets in San Jose. The proposed multipurpose, 18-plus arts venue and restaurant was initially scheduled to open in April, but now it's anyone's guess. Despite new improvements to the interior in the form of minor construction work and a vivid paint job, the Earache is in a holding pattern. A walk-through of the space was conducted last Friday (May 16) by San Jose City Councilmember Cindy Chavez' chief of staff, Jonathan Noble. While friendly, Noble would not go into detail about the Earache because, as of Monday afternoon, he had yet to follow up with Chavez about his visit. He did say that the next step in the process is for Stikmon and his partners to apply for a conditional-use permit, which could take 60 to 90 days to approve. Stik remains optimistic, but says the delay in opening is hurting him financially. "I've sold everything I own just to make this thing happen," he declares.

HOT FOR COLDPLAY: Channel 104.9 listeners have a shot at a double dose of Coldplay next Friday (May 30). Hours before the band performs at Shoreline Amphitheatre, the station is presenting a private, invite-only performance at the Edge in Palo Alto. Winning listeners can get two free tickets to the Shoreline show as well. Listen to FM-104.9 or visit www.channel1049.com for more info.

PARK PLACE: Every Thursday, 5-8pm, in June, St. James Park is the setting for Foster's Music in the Other Park. The free series of outdoor concerts kicks off on June 5 with the Maroon 5 sponsored by Channel 104.9. R&B with Brenton Wood (June 12); reggae with Big Mountain (June 19); and hard rock with ManMade God (June 26) rounds out the summer lineup. The free summer music season continues downtown with Foster's Music in the Park, which runs every Thursday, July 10-Sept. 4. Meanwhile, the outdoor urban market SoFA Bazaar, held along South First Street in downtown San Jose, has been postponed until July.

LAST CALL: Popular downtown Irish pub Katie Bloom's bids a fond farewell this Friday (May 23), 5pm to closing, and pub regulars can call on their favorite bartenders for one last round.

HOT TOPIC: Local boys made good, Trapt, whose debut album holds the No. 47 spot on the Billboard charts, return to the Bay Area to play Slim's in San Francisco on June 25 with Seether and Smile Empty Soul.

PLAN AHEAD: Brightlife, Short Round, the Fine Print, Atomic Mint and Meredith Edgar, May 22 at the Los Gatos Outhouse; Roxy Roller and All Time Low, May 22 at the Blank Club; the Odd Numbers, Sign of the Fox and Black Tiger, May 23 at the Blank Club; My New Life and Ant June, May 23 at the Caravan; INQ, Mercury Sound and Tym Ellis, May 24 at Club 4 in Campbell.
---
Send a letter to the editor about this story to letters@metronews.com.
---
[ Silicon Valley | Metroactive Home | Archives ]