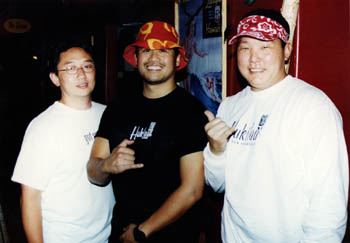 Photograph by Chris Revell

Tiki Threesome: Co-founders Eric, Al and Kurt are islands in a stream of Hawaiian memorabilia.

Back to the Beach

At Hukilau, the Hawaiian latitude warms up local food attitude

By Todd Inoue

THE BEST MEALS I ate in Hawaii last summer were not at the touristy luaus or at Roy's but on the lanai of my Auntie Aileen's beachfront house in Kaneohe. That afternoon, we took Uncle Wadworth's boat onto the water and went fishing. My distant cousin Reed snared a tako (an octopus) and kept it chilling in the ice chest. On shore, we cleaned and cooked it, and later that night we ate our marinated guest, drank beer and swallowed barbecued oysters as the sun went down, tossing the spent shells into the lapping sea.

No, Hawaiian folks aren't throwing a pig on parallel bars every day. If you want to eat like a local, you got to go where the locals are, where the only fire show you get is when your uncle fiddles with the coals. Local food is comfort food--a Tupperware container full of musubis (rice balls) from an auntie, a plate lunch (meat, two scoops of rice, macaroni salad, pickled vegetables and gravy over everything) from the roach coach at the beach. It's saimin noodles and loco moco from L&L Drive-In or Zippy's--and now, at San Jose's Hukilau.

Formerly the site of an Asian fusion restaurant, the Hawaii-themed Hukilau opened last year in Japantown. Employees greet you with "Aloha!" when you arrive and "Mahalo!" when you leave. Tiki culture is everywhere, including a bamboo-thatch bar and drinks in little wooden tiki containers. Walls are painted in deep reds, and surf god Duke Kahanamoku watches you take a leak in the men's john. In the back, a larger dining area with a central square-shaped bar awaits.

The menu is a mix of local style favorites and pub fare. Plate lunches are the order of the day; all daily specials come with a scoop of macaroni salad and steamed rice. Skip the quesadilla and nachos and head straight for the ahi poke. Chunks of raw ahi tuna come tossed in a pineapple shaped boat with soy sauce, sesame oil, scallions, seaweed and a chili flake or two. At $9, it was expensive for an appetizer, but it was toothsome, on the salty side (which is good) and disappeared fast. A tako poke is also available for $8.

There's a reason Hawaii leads the United States in Spam consumption: The nifty gelatin-packed pork shoulder and ham blocks keep forever in the humid Polynesian climate, and somehow the kitsch factor never reached across the ocean. Hukilau creates the ultimate finger food in the Spam musubi ($2). A thick slice of Spam is lightly broiled, brushed with teriyaki sauce, sandwiched between rice, wrapped with nori and cut in shapes that resemble Nevada. Perfect for picnics and baseball games.

Hamburger steak ($6.50) epitomized the local food aesthetic with a huge patty of ground chuck, topped with grilled onions and brown gravy. Macaroni salad and two scoops of rice were partners in starchy crime. For a dollar more, you can get the Loco Moco, which adds a fried egg on top for that extra cholesterol boost. Fried rice is served as a regular entree and is seasoned with shoyu, a hint of oyster sauce, carrot, peas and dimes of pan-fried Portuguese sausage. Hukilau saimin ($7.50)--the comforting soup similar to pho or udon--arrived in a big bowl fragrant with dashi broth and char siu pork and fish cake entangled in egg noodles. The char siu was on the small side, edging toward the pathetic, but it came with a side of kimchi and scallions, a nice touch.

There are as many misperceptions surrounding Hawaiin cuisine as there are lobster-skinned tourists shopping at the Waikiki Gap. Hukilau is a prime example of true Hawaiian: simple, slightly salty, stomach-filling foods with an Asian Pacific attitude. Hukilau is a festive place that gets crowded after work and loud on weekends when live music plays. My advice is to come for lunch or on Tuesday-Thursday when the aloha spirit shines all day long.
---
Hukilau
Address: 230 Jackson St., San Jose
Telephone: 408.279.4888; www.hukilau.tv
Hours: 11am-midnight Tue-Thu; 11am-1:45am Fri; 10am-1:45am Sat; 10:45am-11pm Sat; Closed Mon
Full Bar, Thu drink specials; live music on weekends
---
---
Send a letter to the editor about this story to letters@metronews.com.
---
[ Silicon Valley | Metroactive Home | Archives ]