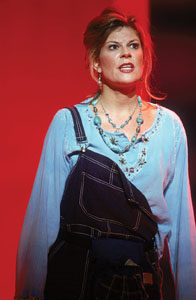 Photograph by Joan Marcus

Take a Chance on Her: Donna Sheridan (Monique Lund) can't decide which ABBA song best describes her dilemma in 'Mamma Mia!'

'Mamma' Says Knock You Out

See that girl. Watch that scene. Dig into 'Mamma Mia.'

By Todd Inoue

IF LIFE CAME with a soundtrack, you'd be lucky if it used ABBA songs. Imagine hitting the ATM to "Money Money Money," poker night with the guys to "The Winner Takes It All." Enter a nightclub: a disco ball rotates, a piano roll hits and you're all polyester and platforms as "Dancing Queen" blasts. American Musical Theatre of San Jose's presentation of Mamma Mia! takes theatergoers to that universe where the right words are just an ABBA song away. Group members Björn Ulvaeus, Benny Andersson and writer Catherine Johnson are behind this cheeky musical that covers 22 ABBA hits.

Sophie Sheridan (Kristie Marsden) is a 20-year-old American about to get married at a Greek taverna that Donna (Monique Lund)--her former pop-idol mother--owns. Sophie's father left before she was born, but after snooping in her mom's diary, she learns the DNA could be traced to one of three former flames. She invites all three to the island to suss out the true impregnator, who will walk her down the aisle. Chaos ensues, and what a quirky chaos it is as ABBA tracks guide the plot and serve as bumpers between scenes.

It takes a little time to divest the songs of their original meanings and accept the new context they inhabit. "Chiquiquita" and "Dancing Queen" are flipped to become supportive songs for Donna from her pals Tanya (Ellen Harvey) and Rosie (Robin Baxter). "Does Your Mother Know?" becomes a cautionary tale from tarty Tanya to one of the groomsmen. The show reaches a dynamic peak during the mother-daughter duet "Slipping Through My Fingers" and the mother's solo "Winner Takes It All." Other times, ABBA songs serve as plot thickeners, like "Take a Chance on Me." After one of the potential sperm donors turns down domestic life as his fate, one of Donna's friends, Rosie, sings, "If you change your mind ..." and you know what comes next.

The dialogue is snappy, and at times, tongue-in-cheek. "What can we do with three men," asks Rosie, trying to sort out Donna's dilemma. A sly look from Tanya--a Christine Baransky meets Kim Cattrell character--breaks the third wall and says with a wink, "That takes me back." To the die-hard ABBA fan, Mamma Mia! is a precious godsend. To the casual ABBA fan, or for those who don't know ABBA from IKEA, it's a gas. After the curtain call, three Vegas-style musical numbers close the show, generously returning the songs back to the audience. Free of Mamma's meaning, the crowd rose to its feet and clapped and sang along.
---
Mamma Mia!, presented by American Musical Theatre of San Jose, plays Thursday-Friday at 8pm, Saturday at 2 and 8pm and Sunday at 1 and 6:30pm through June 1 at the San Jose Center for the Performing Arts, 255 Almaden Blvd., San Jose. Tickets are $40-$65. (888.455.SHOW)
---
---
Send a letter to the editor about this story to letters@metronews.com.
---
[ Silicon Valley | Metroactive Home | Archives ]