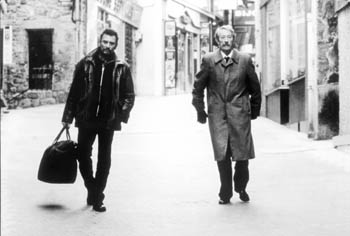 Bank Robber's Hallyday: Gunman Milan (Johnny Hallyday, left) strikes up a strange friendship with an old professor (Jean Rochefort) in 'Man on the Train.'

Train of Thought

Patrice Leconte's 'Man on the Train' tracks the crossing fates of two men--and two national cinemas

By Richard von Busack

ONCE UPON a time, the French film industry outsold the American movie companies. As Richard Abel's book The Red Rooster Scare describes it, French domination by the Pathé company in the years before World War I spurred talk of tariffs and a propaganda campaign comparing the womanly sophistication of French movies with our own manly cowboy movies.

It's as if America has never forgotten the panic. Despite everything we have sponged off of French movies--despite how French movies preserved cinematic ideas that lapsed from American memories (as in their enshrinement of film noir)--the joke about French effeteness and fecklessness is one that Americans never tire of telling, no matter how tired some may get of hearing it.

At the very least, France has been a mirror to American cinema, reflecting aspects of our movies we never understood here. No other country has really loved American cinema as much, loved our simple solutions to the complexities of life, the dizzying vastness of our landscapes and skies. Patrice Leconte's newest, Man on the Train, can be enjoyed as the gentlest and brightest kind of buddy movie. But it also speaks to the question of where culture in general--and where cinema in particular--is headed.

Milan (Johnny Hallyday) steps off a train on a dim November afternoon in an old and dull small town in the Rhone region. It's a ghost world. Night is falling, and the main street is shuttering itself, even as Milan, who suffers from chronic headaches, searches for a pharmacy.

Milan encounters a self-amused old man named Manesquier (Jean Rochefort), who invites him back to his home for a glass of water, the hotel being closed ("Tourists are scarce in November, just as they are in July"). Manesquier is the last inhabitant of a decaying chateau, with drained pond, damp walls, ancient bric-a-brac and taxidermed animals. On his shelves sit leather-bound books, destined to be unread, the residue of a career teaching French poetry: "Thirty years of teaching, and not one student molested," he says proudly.

Rochefort, with the beaky nose, dapper mustache and august smile of a chef in an advertisement, perfectly embodies French culture on the skids. He is as vivid as Peter O'Toole when O'Toole plays decadent relics of the British Empire. It's not for nothing that Rochefort was picked to play Don Quixote by Terry Gilliam.

Joking about one of his illustrious ancestors who accidentally shot himself in the head on the battlefield or debating classical music with his monosyllabic guest ("Schumann appeals to my love of failure"), Manesquier has nothing but shabby-aristocratic futility to protect him from fear. He has an unpleasant encounter scheduled with the surgeons, just two days away.

His guest wears a fringed leather jacket and bristles with guns. Milan is a bit of a cowboy, a bank robber with an over-the-hill gang. His posse are French ditherers, too: a wheelman who has budgeted himself to one epigrammatic sentence a day and a seriously alcoholic robber who prefers watercolors. It's hard to imagine that they'll be a match even for the town's drowsy-looking bank.

Hallyday is a tragic-looking middle-aged man with a face that appears as if it's been left outside for five years. He's a rock star, considered the Elvis of France. You can hear Hallyday's unfortunate version of the '60s hit "Black Is Black" in The Good Thief, with Nick Nolte making a few derisive comments about it.

Milan is supposedly named in honor of spaghetti-Western star Tommy, a.k.a. Tomas Milan, who starred in Django Kill! and Face to Face! (one website describes the real Milan as looking like "Christopher Guest with long hair").

Fake cowboy though he is--with a staged photo of himself standing in the Nevada desert--Hallyday suffers the American movie-cowboy's problems. This robbery will be his last job, one way or another. Yet to Manesquier, Milan represents freedom, the America of his dreams. And during this meeting of two different ways of life--the poet's and the gunman's--the immaculate sophistication of Claude Klotz's script never seems artificially fancy.

The epilogue seems repetitious. The film has made its point--the scholar has given the man of action a vision of a settled, contemplative life, and the gunman has taught the vacillating teacher to stand up for himself a little--but then the two characters replay everything we've learned in a short pantomime. We can handle the tragedy of these two men's lives without the last-minute sweetening Leconte tacks on. Otherwise, Leconte constructs an elegant allegory of how French culture seems to have been bypassed by the force and brashness of American culture, like a small town bypassed by an interstate. Today, even the Pathé rooster is a shadow of its former self in that new, Calder-like logo the company's using. Leconte shows how comforting--even heroic--the French attitude of detachment and self-amusement is. And we can see how well it still lives here and there.
---
Man on the Train (R; 90 min.), directed by Patrice Leconte, written by Claude Klotz, photographed by Jean-Marie Dreujou and starring Johnny Hallyday and Jean Rochefort, opens Friday at Camera 3 in San Jose.
---
---
Send a letter to the editor about this story to letters@metronews.com.
---
[ Silicon Valley | Metroactive Home | Archives ]