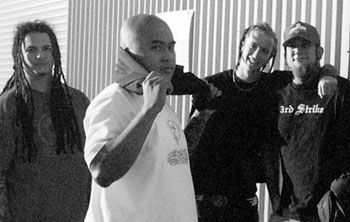 Insolence charged the stage last Saturday at the Cactus.

Tough Turf

Insolence hits its home turf with new drummer in tow

By Sarah Quelland

THE NUMBER OF PEOPLE who turned out to catch Insolence's big return to the Cactus Club last Saturday (May 18) was proof positive that Insolence fans are a loyal breed. This was the band's first local show with its new drummer, Kevin Higuchi (a money player who's been dubbed "The Gooch" by his band mates), and the San Jose group easily sold out the club.

Insolence charged the stage with all systems on overdrive, kicking off the night with "Poison Well," its biggest hit to date from its Maverick Records debut, Revolution. Only two songs in, during "Head 2 Head," the room felt as if it were going to explode from the energy that was leaping off the band and into the crowd. That sensation would happen again and again throughout the night.

Taking their vocal skills to new levels by exploring their singing abilities on the newer tunes, Mark Herman and Billy Rosenthal complemented each other well. And despite setting the pace a little too fast, the band was relentless from start to finish. This was a big rock show with voracious fans crammed against the front of the stage and people pitting fiercely behind them. The crowd buzz was consistently loud, with fans screaming their support and singing word for word with the songs they knew, including a totally reworked version of underground favorite "Front," a song the band reserves almost exclusively for San Jose audiences.

Still, the biggest treat of the night was watching old-school fans respond favorably to the new hard-reggae material. Highlights of Insolence's new set list included "No More Lies" (with the lyrics "We only want the truth"), "Stand Strong," a grizzled, sunburned reggae number, and "Downfall," a laid-back, summery reggae tune.

Insolence has two more shows coming up before it disappears again to continue working on the follow-up to Revolution. The group plays May 31 at the Pound in San Francisco and June 1 at Scratch 8 in Sacramento.

ALL THE NEWS: It appears no amount of public outcry can save the Cactus Club. The SoFA mainstay will close its doors on June 30. The club's owners are actively seeking a new space to open a new venue in the South Bay. It's still unclear what will happen to the 417 S. First St. building. Jacek Rosicki, whose family owns the property the Cactus stands on, remains tight-lipped, saying only, "I'd rather not get into it, because I'm not ready for discussions."

It seems we've watched local promoter Eric Fanali grow up, and the legacy of his youth has been archived on these very pages. It's hard to believe he's graduating from college, but he is--and to celebrate in true Fanali form, he's holding a graduation party on May 26 at 8pm at the Nickel City Arcade on Branham Lane in San Jose. A mere $1.95 at the door buys free video games, a performance by MU330's Dan Potthast and an acoustic set by the Super Huxtables... Another local promoter, Jennifer Leggio, has joined forces with www.powerslave.com, a website founded by Mario Perotti that follows Northern California's underground metal bands. Leggio is presenting two final shows before her union with Powerslave officially kicks in: Roberta and Jennifer's Beer Bong Birthday Bash featuring Unjust, Hemlock, 40 Grit, 3rd Rail, Karate High School and Fellatia on May 25, and Rivals, Stitch, Luxt, Ones and Zeros, Sora, downside, Eyecon (formerly 209) and Splyt on June 8. Both shows take place at the Cactus... Hot Town Jubilee releases its second album, The Spirit of Rhythm, Friday (May 24) at the Hedley Club... Triple Seven, Fighting Jacks, Ones and Zeroes, Autopunch and Miggs perform at one of several Wild Night showcases spearheaded by Nadine Condon next Thursday (May 30) at the Usual. Tickets are $8, and doors open at 8pm.

PLAN AHEAD: Not Waving but Drowning, Shortie, Depths of Depression, Movement and Still Life, May 23 at the Cactus; Hope Child, Sweet Duration and emaneht, May 24 at C&J's in Santa Clara; Shredfest 2 with RevivALL, Becoming, Down Factor, Imagika and Death Machine, May 24 at the Cactus; My New Life, 1208, Prop 808 and Shut Up Donny, May 25 at the Santa Clara Basement; Stitch, Movement, Two Steps Behind, Will Today and Vital, May 26 at the Gaslighter Theater in Campbell.
---
Send a letter to the editor about this story .
---
[ Silicon Valley | Metroactive Home | Archives ]