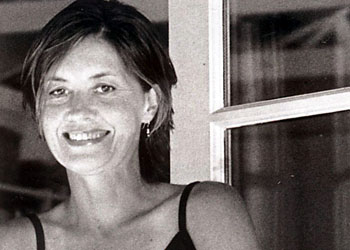 Prose Queen: Julia Whitty gives voice to other species in 'A Tortoise for the Queen of Tonga.'

Man and Manatee

Julia Whitty's stories bring the natural world to conscious life

By Jill Koenigsdorf

JULIA WHITTY'S debut short-story collection, A Tortoise for the Queen of Tonga (Mariner Books, $12 paper), is that rarest of birds: a book that educates as well as entertains. Mining a large body of knowledge about the natural world from her 20-odd years making documentary films about everything from sharks to spinner dolphins to manatees, Whitty tackles life's larger concerns: man's responsibility and relationship to other species, death, reproduction, extinction, loneliness, evolution, suicide, poetry and trust.

The book's 10 stories span the globe, exploring flora and fauna, covering vast bodies of historic and scientific terrain. We enter caves in the Dordogne, feel the cruel captivity of the creatures at Ocean World in Florida, spend time with several generations of Tongan royalty and get a glimpse of what heaven might be like with Charles Darwin and Richard Feynman as residents.

Clearly, from the opening sentence of the title story--"She died in the palace gardens in 1966, of extreme old age and a heart that had swelled insupportably from nearly two centuries of loneliness"--we are in for an amazing journey.

There has been a trend in short-story collections in recent years to make them "interconnected," as if each story were more like a chapter in a seamless longer work, and it is to Whitty's credit that each of these stories is so distinct from the others.

If there were a common thread, it would be an issue of great concern to the author: the harm that is done when man is unconscious toward other species or his own blind spots. It is a tricky task to have a short work of fiction carry such warnings without the author sounding like she is on a soapbox, but Whitty gets her message across in writing that remains alive.

"Lucifer's Alligator," a cautionary tale of the hopelessness of creatures in captivity, is a prime example: "Lucifer had been at Ocean World the longest. Twenty years, Amanda, the oldest of the manatees reckoned: crunching on carrots, counting the bites, measuring the steady disintegration of cellulose into liquid. She grew panicky when carrots were scarce. Without carrots, there was no counting and without counting there was no time, therefore no motion, no approach of deliverance."

Perhaps not since Orwell in Animal Farm has anthropomorphizing been as powerful a literary tool as it is in this story. The same is true in the title piece, where we see war, birth, death and the transformation of an entire culture through the eyes of a tortoise.

When Whitty's settings are closer to home, she writes of the strength of women on their own. Phoebe, in "The Story of the Deep Dark," runs a computerized graphics animator called Harriet in a video house in San Francisco, where her purpose is to transform her clients' products into things of magic: "cans of cat food into waltzing tunas, aspirin into the soothing hands of a masseur, cereal boxes into blooming jungles." She goes to France after breaking up with her boyfriend because he wants children and she does not. Visiting the cave art of the Dordogne, she is immediately confronted with prehistoric depictions of many of the issues--fertility, males and females, power--that she is wrestling with and that ultimately help her know she has made the right decision.

Whitty is at her best making complex and seemingly esoteric realms come to life for the layperson. It isn't necessary to don a wet suit, as in "Jimmy Underwater," to experience the fear of leakage or gaps when easing down into the frigid Arctic Ocean. Nor to be a scientist to imagine Darwin's pleasure in seeing the organisms known as cyanophytes, or blue-green algae, in "Darwin in Heaven," when he thinks he may have discovered, posthumously, the origin of life on Earth.

Perhaps the weakest story in the collection, "Stealing From the Dead," is the least scientific/nature-related and deals instead with a May-September romance between a young artist and a Byron scholar. After so many stories of life-and-death struggles, we have come to expect Whitty to lead us into uncharted territory and to illuminate beautifully all that we encounter there.
---
Send a letter to the editor about this story .
---
[ Silicon Valley | Metroactive Home | Archives ]