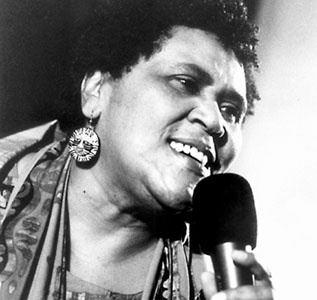 Vocal Verve: Gwen Avery hits all the right notes.

Sugar and Soul

Singer Gwen Avery learned her style in the unlikely blues hotbed of Pennsylvania

By Andrew Gilbert

VOCALIST GWEN AVERY released her first album last year at the age of 58, but the seeds of her blues-drenched music were planted long ago, in the juke joint run by her grandmother. Raised in Verona, Penn., a small town outside Pittsburgh, Avery soaked up the sounds of jazz and R&B pouring from the club's jukebox and kept a close eye on the itinerant musicians who stopped by to take part in impromptu jam sessions. While the setting was earthy as could be, sanctified sounds also resounded through the club, as gospel music "flowed in that house of ill repute with the whiskey and beer," Avery recalls. "It was a little town, with only about 100 blacks, and every year my grandmother counted them. But there was so much music, all the time."

The Berkeley-based singer has come a long way since then, but no matter what kind of material she tackles, she sings it with a spine-tingling immediacy that cuts to the quick. Her debut CD, Sugar Mama, is a wonderfully diverse session held together by the soulful power of Avery's voice and the sleek, uncluttered production, which was overseen by Linda Tillery, the singer and musicologist who has devoted her career to preserving and nurturing African American music. (The album is available at Avery's website, www.gwenavery.com.)

Like so many other young people, Avery was drawn to the Bay Area in the mid-'60s, and she eventually found work singing in Full Moon, a popular hard-rock band led by Gregg Young. "He wanted me to sound like Led Zeppelin," Avery says. "My voice was so powerful, and I had so much energy, but I wasn't used to singing that loud that long. I ended up going to the same doctor that Janis Joplin did when I developed nodes on my vocal cords, which were really common among rock singers then."

Full Moon never recorded an album, and after a few years, Avery left the band and started looking for new musical situations. She reinvented herself when she was invited to perform at the first women's music festival in Santa Cruz in the early '70s. She began writing her own songs and toured widely on the women's music circuit with other singers recording for Olivia Records. She never got the chance to make her own album though and remained something of a cult figure for decades. But with the release of Sugar Mama and her increasingly busy touring schedule, the awareness of Avery's thrilling voice is spreading like the good word at an old-fashioned tent revival meeting.
---
Gwen Avery performs Saturday (May 26) at 8pm at Espresso Garden and Cafe, 814 S. Bascom Ave., San Jose. Tickets are $10 adv/$12 dr. (408.298.0808)
---
[ San Jose | Metroactive Central | Archives ]