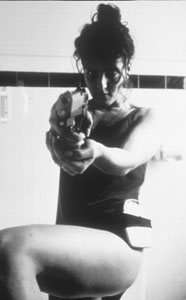 Targeted Aggression: Two women go on a sex-and-violence spree in 'Baise-moi.'





Limited Spree

The sex and violence don't explain much in French 'Baise-moi'

By Richard von Busack

I DIDN'T THINK much of Baise-moi, but at least I felt as if I'd seen an underground movie for a change. The title can be translated as "Kiss Me," "Fuck Me" or "Rape Me"--as if there were no difference among the three. The heroines can't tell, and neither can co-directors Coralie Trinh Thi and Virginie Despentes. The film begins with an atmospheric but discursive 15 minutes showing the film's two heroines kicked around by men and the welfare state. While they're getting drunk in the bad part of Paris, Manu and Nadine are subjected to a graphic-XXX rape. The small feral girl Manu (Raffaëlla Anderson) endures the assault numbly and says something memorable: she emptied herself of feeling, just like you'd empty your car of valuables if you left it in a bad neighborhood. Nadine, the other victim, is played by Karen Bach. Like Anderson, she's a porn star in real life. Now radicalized, the two launch a crime spree.

This kind of movie is old enough to have its own subgenre, from Faster Pussycat, Kill! Kill! to Ms. 45. And during the slack spots, I had to wonder whether it was true that critics get jaded. "Jaded" is a word for critics whose memories are too long for the film industry's convenience. However, you do end up seeing the same kind of film over the years, and you want to ask, "What's new this time?" Is the best thing to be said about Baise-moi that "youth must be served"? Baise-moi is a rebellion movie that doesn't stint the sex and violence, and tries (and fails) to stay anarchic.

These girl-devils--pretty, as today's rebels have to be--enjoy shagging as well as killing, but they have their proper limits. They indulge in an ooh-la-la underwear dance to show how turned on they are by each other, but when a male lover asks the women to put on a show, they kick him out of the hotel for his dirty impudence. As a grand finale, they massacre a room full of swingers. We're meant to think of the shootings as justice: death is what these filthy sex fiends deserve. What does their swap club have to do with social injustice? Is sex only liberating when these two girls decide it is? Or does the massacre show their opinion of the perverted bourgeois class?

Baise-moi is at its wittiest suggesting that the heroines are dull women without imagination. At one moment, Manu draws a blank: she can't think of any postmurder quips. At another, the two vengeful harpies rob a liberal, and he starts trying to smooth their feathers ("You must have be full of pain"). Remember that Situationalist maxim based on an infamous Goebbels quote: "A liberal is someone who, when he hears the word 'revolver,' reaches for his culture?" You want the dialogue to continue; maybe one of the killer girls would be persuaded by his comforting social worker's logic and get into an argument with her partner about the psycho-cultural reasons they both went on the warpath. Unfortunately, this scene ends where all the other scenes end: with the raspberry jam splattered against the wall. The French like to complain about the pernicious influence of American films on their movies: here's an example of how far Yank movie aesthetics has spread. Even one France's most erstwhile dangerous exports can't fathom a way to end an intellectual argument except with the trigger pulled again and again.
---
Baise-moi (Unrated; 76 min.), directed and written by Virginie Despentes and Coralie Trinh Thi, photographed by Benoît Chamaillard and starring Raffaëla Anderson and Karen Bach, opens Friday at Camera One in San Jose.
---
[ San Jose | Metroactive Central | Archives ]