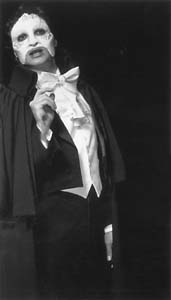 Who Was That Masked Man? Richard White originated the role of the Phantom in the original production.





The Phantom Menace

The other 'Phantom' comes out of Andrew Lloyd Webber's shadow for a soulful and spirited musical drama

By Rob Pratt

IF THERE'S ONE THING consistently absent from musical shows crafted by Andrew Lloyd Webber, it's a sense of heart. Though American Musical Theater of San Jose certainly didn't intend its current production of Maury Yeston and Arthur Kopit's Phantom to be an essay on that theme, the point rings clear. Stacked against Lloyd Webber's behemoth The Phantom of the Opera, which wows crowds with spectacle, Yeston and Kopit's Phantom, with strong melodies and a powerful and lyrical reworking of a nearly century-old drama, makes audiences cheer as if rooting for a scrappy underdog.

Comparisons are unfair, though, since Phantom succeeds entirely on its own merits. Kopit's book for this retelling of Gaston Leroux's 1911 novel takes artistic license, detailing the backstory of the Phantom's obsession with opera ingenue Christine. The result is an emotionally gripping tale, one that humanizes the Phantom and makes sense of the story's finale. The music and lyrics by Yeston (who won Tonys for 1997's Titanic) are nothing short of magnificent, subtlely setting a mood with organ pedal tones in the bass and instrumental motifs gliding along dark romantic themes, heightening dramatic scenes with haunting underscores like reverberant water drops among the catacombs beneath Paris and rising to an emotional climax with operatic grandeur.

American Musical Theater makes the most of Yeston and Kopit's first-rate show in a production full of staging surprises and loaded with great performances. It's Ken Holamon's moody set and director Marc Jacobs' eye-candy flourishes that generate most of the surprises. In the space of the 10-minute opening number, as street peddler Christine sings "Melody of Paris" and charms an opera patron to gain entry to the Paris Opera House, the scene moves from bustling cityscape to a startling backstage through-the-looking-glass fantasy, concluding with the shadow of the Phantom looming over the theater. The action moves from catwalks above the stage to catacombs below the theater, often right in front of the audiences' eyes.

Phantom is all about the mysterious figure who haunts the opera house, and for this production, American Musical Theater enlisted Richard White, who originated the role in the premiere and who delivers a commanding performance. As Christine (and as Phantom's mother, Belladova), Kristin Peterson captures the enthusiasm and vivaciousness of a budding starlet, though her uneven vocal performance in "Christine's Obligato" detracts from the triumph of her victory in a battle of the divas.
---
Phantom runs Tuesday-Friday at 8pm, Saturday at 2 and 8pm and Sunday at 2 and 7pm through June 4 at the San Jose Center for the Performing Arts, 255 Almaden Blvd, San Jose. Tickets are $40-$55. (888.455.SHOW or 480.998.BASS)
---
[ San Jose | Metroactive Central | Archives ]