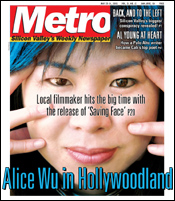 For the Week of
May 25-31, 2005
Cover Story: Alice Wu in Hollywoodland:
Local filmmaker hits the big time with the release of 'Saving Face.'
News: Milpitas: Behind The Scene:
Are police working to shut down the city's night life, or is it just one man's paranoia?
The Fly: Dave Cortese's Bizarre Double-Take.



Silicon Alleys: One Big Conspiracy.
Techsploits: Fantasies of E3.
Rev: Tools for Women: The owner of the company, Barbara Kavovit, a successful construction contractor, started the series in order to empower women.



Coached: Gregg Araki trembles on the verge of too much in 'Mysterious Skin,' his study of child abuse.
Oh, Poor but Dishonest: André duplicates the good life in Jorge Furtado's 'The Man Who Copied.'
Great Outdoors: Cinema San Pedro starts its fourth outdoor movie season, and Campbell follows suit.



Get Back: Are the Pixies this generation's Beatles or Lynyrd Skynyrd?
Go Dumb: How guilty pleasures disengage brain from body.



Al Young, Laureate: An intimate profile of Al Young, California's new poet laureate, from Morton Marcus' literary memoir, 'Striking Through the Masks.'



Heat Seeker: Michael Mina's Arcadia is trying to ignite the Silicon Valley dining scene, but it still needs a spark.
Silicon Veggie: Some People Get a Head-Start.
5 Places to Love: Restaurants Open Late.



Alice Has a Mixed Bag: City Lights puts five women through their singing paces in 'A ... My Name Is Alice.'
No Solace From Solís: Teatro Visión strips away the veneer on Octavio Solís' complex characters in 'Santos & Santos.'



Please don't forget to write! Metro welcomes letters. Like any great work of art, they should be originals — not copies of letters sent elsewhere. Include address and daytime phone (for verification purposes only). Letters may be edited for length and clarity or to correct factual inaccuracies known to us. Postal: Metro Letters, 550 S. First. St., San Jose, CA 95111. Fax: 408/298-0602. Email: letters@metronews.com. Emailers, please include name, city of residence and phone number. Letters printed will list email address unless otherwise specified. Letters to the editor are not currently published in the online version of this paper.