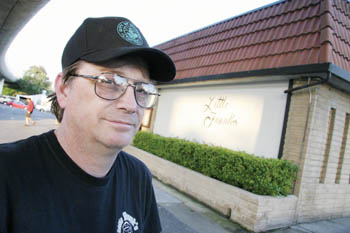 Photograph by Felipe Buitrago

A Little Upset: Frank Palladini, owner of Little Frank's Bar and Grill, says he is planning a lawsuit against Milpitas.

Milpitas: Behind The Scene

Are police working to shut down the city's night life, or is it just one man's paranoia?

By William Dean Hinton

SEVERAL YEARS AGO, Frank Palladini was concerned he was about to lose his job as a bus mechanic for the Valley Transit Authority. To have something to fall back on, he and his wife, Connie, scraped together their life savings, about $40,000, and bought a bar in the tiny bedroom community of Milpitas, which most South Bay residents know as a couple of stops off the interstate northeast of San Jose. Palladini, who is 45, wanted his bar to have a Cheers-like atmosphere—something like a giant living room where patrons might gather to shoot pool, throw darts and complain about their employers.

At first, Palladini says, Little Frank's Bar and Grill was successful, raking in upward of $1,500 per day. He had installed a new stove in the kitchen and decorated his barroom with such staples of blue-collar décor as a neon Jagermeister sign, a Playboy pinball machine and Raider and 49er placards.

But as his success grew, Palladini says he began to notice a heavy police presence in and around Little Frank's. He says officers came into his bar unannounced—usually when the bar had started to fill up with patrons—asking to check IDs, making sure the bar's permits were properly displayed or just milling around without, in Palladini's opinion, good cause. Outside, squad cars would idle in a city-owned parking lot next to the bar while officers wrote reports or staked out the routes Little Frank's customers traveled on their way home.

Palladini says he once counted 93 police trips past his business in a 16-hour workday.

"We became popular," Palladini says, "and the cops decided they didn't like it." Over time, he says, his cash register receipts plummeted to as little as $300 per day.

For two years, Palladini has fought City Hall with little effect. Along with three other bars, Palladini filed a complaint with the city but it went nowhere. He took his complaints to former City Manager Tom Wilson, and former chief of police, Charles Lawson, who moved into Wilson's spot when Wilson departed late last year. Both essentially blew him off, Palladini says. He also says that when he next took his complaints to the mayor, Wilson got nasty with him. "He said, 'You don't talk to anybody but me,'" claims Palladini. "He was a real prick."

He says the police harassment got so bad that he took defensive measures, hiring a driver to haul patrons to and from the bar and installing eight video cameras to capture activity inside and outside his bar. He parked a mobile home in the parking lot for bar staff too tired or drunk to drive home—but the city cited it for an illegal electrical cord, forcing Palladini to shut it down.

Today, Palladini is a frazzled man. He survives on three hours of sleep because much of his free time is spent at Little Frank's, cooking steaks and hamburgers, searching for late-arriving bartenders and worrying about police. He often sleeps on a mattress he pulls on top of the pool table, awakened by the sounds of janitors coming in at 6am. The stress has taken its toll. He talks often about bankruptcy and divorce. Two weeks ago he punched a hole in a wall next to his bedroom. Connie, his wife, says Little Frank's is a "sore subject" and leaves it at that. Palladini says other Milpitas bar owners should help him stand up to Milpitas officials but they've become too intimidated. Unfortunately for him, he says, he has nothing left to lose. "One of two things can happen: The cops will either back off or they'll say, 'Fuck him, we'll put him out of business.'"

At his home in south San Jose, Palladini produces what he feels is incontrovertible evidence of police crossing the line. He shows a video of a May 11 traffic stop in which two officers pull over a woman who left a liquor store without her lights on. Palladini sent one of his bartenders out to check, which prompted the officers to park and come inside. Once inside, they sat at the bar—in full uniform—and told the bartender that, in effect, since she had checked on them, they would check on her. Then they sat at Palladini's bar for five minutes without ordering anything.

Palladini says he became so livid he dared not approach the cops. He picked up a phone and called dispatch about the same time the officers headed for the door. Will that be enough to win a lawsuit Palladini is preparing to file against the city? It's hard to say. Palladini compares his case to a 2000 federal court case involving the Blue Lagoon bar in Santa Cruz. Police were found culpable of misconduct in a number of incidents, including staging a false arrest, shining headlights into the bar, making patrons run a gauntlet of cops in and out of the gay-friendly bar, hanging out in the bar for hours at a time, running dogs through the bar and brandishing their batons.

Hugs or Thugs?

Eric Emmanuele is one of 93 Milpitas police officers whose beat includes Little Frank's and four other bars along Main Street. A Milpitas native, he is popular with the late-night crowd, including bartenders, who ask him to walk them to their cars.

Emmanuele says Palladini is missing the point with Milpitas police tactics. More than 15 years ago, before Emmanuele was on the force, the department adopted community policing methods which attempt to engender trust between police and citizens by encouraging officers to make as much face-to-face contact with the people on their beat as possible. Emmanuele says Palladini prefers to see only the negative side of community policing. "He has this notion we're after him. He's not making it up. He believes it's true."

As Emmanuele talks outside the bar one Friday night, a woman in a Steve Young jersey talks to him for several minutes, punctuating the conversation with a squeal of "You're awesome!" Another man walks out of Little Frank's with a full glass of Sprite, a reward for a bet Emmanuele won.

Palladini has scolded customers before for hanging out with Emmanuele, but he also says Emmanuele isn't the problem. It's "other" cops, he says, who are harassing him. "They're not performing a community service," he says, "they're performing a community disservice."

Certainly there is the issue of the other Milpitas bars who were originally involved in filing a grievance, but now say they don't want to comment or otherwise get involved. Dee Dickerson, a dreadlocked Texas native who owns the nearby Southern Comfort Cuisine restaurant, agrees with Emmanuele's view. Dickerson says that not only are his upscale clients not scared off by police presence, they might actually prefer it.

"I welcome them because they're friendly to me, friendly to my customers," he says.

Several Milpitas councilmembers said they have heard nothing of a police campaign against Palladini and that they considered his charges groundless.

"That's a bit of a stretch," says Council-member Armando Gomez. Nor is it possible, he says, that the council might be dictating to police to take down Little Frank's.

"Council cannot provide direction to staff," he says. "We can't tell them what to do."

Says Councilmember Bob Livengood, "Any time there's on-site alcohol, police have to be vigilant. These places are problematic if not watched. But I've not heard anything negative about Little Frank's."

No Smoking Gun

Diane Vaillancourt, the Blue Lagoon's attorney, who won $435,000 from Santa Cruz officials in the case, says that just because Palladini's staff are friendly with police officers shouldn't necessarily prejudice their case.

"Bar owners are very aware of the power police wield," says Vaillancourt. "It's very easy to have a liquor license taken away. At all times, the Blue Lagoon's owners were most polite to police."

One thing Vaillancourt had that Palladini doesn't at the moment is a smoking gun. In the Blue Lagoon case, Lt. Patty Sapone wrote a letter to the Alcoholic Beverage Control Board saying the Lagoon was a problem bar. The allegation prompted an intense investigation but was based on false information, Vaillancourt says. Police had encouraged the bar to call in complaints as part of a neighborhood watch program, then turned around and used the complaints as evidence against the bar.

"That was the piece of paper that proved that this was a setup," she says. "They used it as an excuse to shine headlights in the bar and bring in dogs looking for something to happen, that sort of thing. It proved there was a synergy of things in the case."

Somewhat ironically, Milpitas Police Chief Tom Nishisaka says Little Frank's isn't even a major concern.

"He's not really a big problem. He's making up stories saying we're trying to shut him down."

Police have kept a file on Little Frank's since last September when Palladini filed the grievance against the department. The chief says the bar owner was never interested in the follow-up. "He doesn't want to listen to us," says Nishisaka. "He says we drive by his place 60 to 70 times per day. How do you defend against that? He's on a main thoroughfare. How else are we supposed to get from one part of town to the next?"

But Palladini plans to press on, convinced the city wants him out.

"I see it," he says, "because I'm here seven days a week."
---
Send a letter to the editor about this story to letters@metronews.com.
---
[ Silicon Valley | Metroactive Home | Archives ]