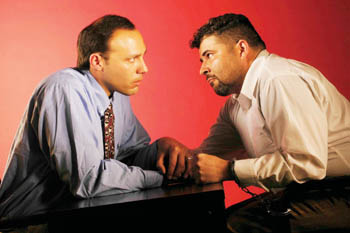 Brotherhood: Jim Sanchez and David Joe Cavallero conduct some suspect family business in 'Santos & Santos.'

No Solace From Solís

Teatro Visión strips away the veneer on Octavio Solís' complex characters in 'Santos & Santos'

By Marianne Messina

WHAT ASPECT of humanity must always endure, no matter how much personal sacrifice it takes? Is it the law? The family? The race? At the end of Teatro Visión's latest production, Santos & Santos, Fernie Santos (George Castillo) pronounces, "Nothing is above the family" with such conviction, it resounds like a scriptural truth. Yet even as he's saying it, the audience knows that events don't subscribe to Fernie's belief. In fact, no ideal withstands the events in this story about a Mexican-American family of lawyers who serve as middlemen between the Las Vegas Mafia and a Colombian drug ring.

Playwright/director Octavio Solís strips "truths" down to where they are no more than beliefs born of the character who holds them, which makes betrayal the one constant. Solís' drama, intensity and complexity hearken back to the likes of Arthur Miller—no character gets off lightly, and yet every one is, in some way, sympathetic.

Fernie Santos, the irresponsible playboy, wears his faults on his sleeve; brother Mike Santos (David Joe Cavallero), the most reasonable, hides a pitiless streak. Tomás (as in "Doubting") Santos (Jim Sanchez) is both the most idealistic and the most slippery character as he tries to identify with an ideal that constantly shifts or eludes him. Solís writes masterful language. (Never mind that occasionally the Chicano card is overplayed.) Tom Gough's Casper T. Willis, the hit man who can immolate a guy without missing a beat ("eyes like bullet holes"), describes the tension in the moment before a kill: "You can almost see the tissue stretching in the air like a muscle." And then, Willis reports, it's suddenly gone, as fleeting as all power is.

This play is no confection. For better or worse, you have to sink primal teeth into it and worry it like it's dinner trying to escape. But to make things easy, the production elements couldn't be tighter. The high-energy acting digs deep—there are no slouches here. Scene changes hum with detailed execution; ensemble scenes ooze creativity. A night scene ends with "Be there promptly at 11am," and in the blink of a lighting program (Michael Palumbo), it's promptly 11 the next day.

Solís has orchestrated the stage space like a filmic soundtrack, making the telling harder and faster without coming off as "artsy." He gives us the theatrical version of split-screen action: counterposed monologues (the simultaneous summations of two lawyers), storytelling in the round (several characters recounting their part in the judge's murder), contrapuntal multilogue from several set zones at once. Kudos to fight choreographer Carla Pantoja and the actors' razor-sharp timing for scenes of hold-your-breath action—shout fests, knife play, gun waving, rope bondage. In one scene, slight Lucinda Serrano (as Vicky) unleashes on the taller Tomás, and in this flash-rage moment, he seems both defenseless and untouchable. For all the visceral action, Solís has a devilish sense of humor and splatters it unabashedly throughout. Willis the hit man breaks into eerily realistic birdcalls (Gough has a knack). When Mike's pregnant wife Nena (Marilet Martinez nails this scrapper) suggests a romantic dip in the hot tub, Fernie says, "No Jacuzzi; I don't want her barfing in there." Judge Benton (Kurt Gravenhorst) pours out his Jekyll/Hyde politics in a humorous (and alliterative) acting gem. This show's highlights alone could fill several reviews. Suffice it to say, Santos & Santos should have people camping out overnight at the box office to get tickets.
---
Santos & Santos, a Teatro Visíon production, plays Thursday-Saturday at 8pm and Sunday at 2pm through June 5 at the Mexican Heritage Plaza, 1700 Alum Rock Ave., San Jose. Tickets are $8-$17. (408.272.9926)
---
---
Send a letter to the editor about this story to letters@metronews.com.
---
[ Silicon Valley | Metroactive Home | Archives ]