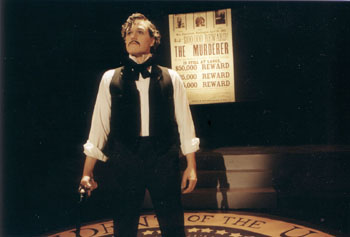 Photograph by Janine Brown/Eagan Photography

The Shootist: Robert Brewer prepares to take aim at Abraham Lincoln at Ford's Theater in 'Assassins.'

Killer Show

City Lights explores the darker recesses of political action in Sondheim and Weidman's 'Assassins' musical

By Rob Pratt

FOR MANY FANS of Stephen Sondheim, the dark and downright gruesome musical Sweeney Todd ranks as the composer and lyricist's masterwork. Despite a grisly subject, Sweeney delivers gorgeous music and a heart-wrenching love story that pays off in one of the most emotionally charged finales in all of musical theater.

Sondheim's Assassins (with book by John Weidman), running through June 26 in a creditable City Lights Theater Company production, likewise creates a powerful artistic statement from touchy subject matter. With Assassins, however, the impact is intellectual rather than emotional. A theater company that undertakes a performance of the show faces a story with no love interest (save Squeaky Fromme's and Charles Hinckley's twisted obsessions) and no heroes—in short, precious few of the dramatic elements that typically hold the interest of theater audiences. Thanks to a solid cast of regional theater veterans and a crafty and tasteful director, City Lights' Assassins delivers a satisfying show that takes a critical look at the tortured souls who have fired upon American presidents and at America's unseemly fascination with them.

Perhaps because he designed the set in addition to directing, Kit Wilder makes masterful use of a small stage. Pedestals to the left and right and a platform upstage create a feeling of volume and depth. As a backdrop, sepia-toned projections of presidents—Ronald Reagan's smiling face or William McKinley's stern countenance, for instance—eerily glow as the various assassins tell their tales. In blocking and choreography, Wilder keeps the cast moving purposefully, at times like chess pieces closing in for checkmate.

Sondheim loaded Assassins with more than a handful of tuneful numbers, and as is true of most of Sondheim's oeuvre, the songs in Assassins are difficult, often requiring vocal gymnastics and machine gun-quick enunciation to deliver complex rhythm and rhyme. Though skilled, the City Lights cast has some trouble with vocal delivery. Mark Alabanza as Giuseppe Zangara, the would-be assassin of Franklin D. Roosevelt, doesn't quite reach the top notes in his character's big number. Alabanza otherwise performs beautifully on "How I Saved Roosevelt," which calls for an operatic tenor's range.

John Aney as Charles Guiteau, who assassinated James Garfield, also has pitch troubles on the difficult melody of "The Ballad of Guiteau," but his presence—a goofy grin and swaggering stride—do much to compensate. Others, notably E. Dale Smith as the balladeer, Robert Brewer as John Wilkes Booth and Halsey Varada as Fromme, possess strong and highly capable voices and put them to good use in the show.

Musical director Michael Johnson shoulders a good deal of the blame for the cast's vocal difficulties as his orchestra (Johnson on keyboard plus another keyboardist and a drummer) performs from the stage-left wing. In such a position, and with his back to the performers, Johnson simply can't cue the music properly or lead vocalists through passages where timing is critical.
---
Assassins, a City Lights Theater Company production, plays Thursday-Saturday at 8pm and Sunday at 7pm through June 26 at City Lights, 529 S. Second St., San Jose. Tickets are $15-$30. (408.295.4200)
---
---
Send a letter to the editor about this story to letters@metronews.com.
---
[ Silicon Valley | Metroactive Home | Archives ]