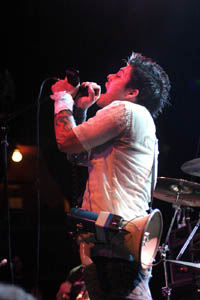 Photograph by George Sakkestad

Strata vocalist Eric Victorino gets illuminated on the Fillmore stage.

Sno Din

Campbell's Strata shines on SnoCore as it prepares to release its Wind-Up debut

By Sarah Quelland

ONCE AGAIN, the desire to see Strata compelled its supporters to arrive unfashionably early. This time, the date was May 17, and the place was the Fillmore in San Francisco. The historic venue held a sizeable crowd when Strata hit the stage just past 7pm as the second band of the night and the first band on the actual 2004 SnoCore package, which included Finger Eleven, Smile Empty Soul and Los Gatos' own Trapt. Before its set ended, the floor had filled up even more. Some headliners don't do that well.

After kicking off with "Piece by Piece" (a song included on The Punisher soundtrack) and "I Will Breathe Fire," Strata vocalist Eric Victorino paused and looked out into the crowd. "Goddamn, this is fuckin' cool," he said modestly. "It's really nice to be home. We appreciate you guys showing up early. Thanks!"

Home is something Victorino, guitarist Ryan Hernandez, bassist Hrag Chanchanian and drummer Adrian Robison don't see too much of these days. Since signing with Wind-Up Records (Creed, Evanescence) last fall, the guys have been traveling cross country and as far away as Romania, where they filmed the video for "The Panic," the first single off their self-titled Wind-Up debut (the tentative album title Victory Blvd. has been scrapped). The song gets released to radio June 8; the video is expected to air on Fuse and MTV2 around the same time; and the album is scheduled to come out July 27. In conjunction with the album's release, in late July, the band heads back out on the road for a run with labelmates Finger Eleven that takes them from Maine to Arkansas.

The long hauls traveling by van may have taken their toll on its sleep quota, but the experience of playing to the better half of more than one sold-out crowd has served the Campbell-based band formerly known as downside well. On May 17, the quartet looked and sounded electric and alive onstage in front of a Bay Area crowd that appeared to be comprised of more new fans than old friends—which, for a band about to hit the national airwaves, is a very good sign.

Influenced by Tool, Radiohead, the Cure and Nirvana, Strata is a compelling, if sometimes contradictory force. The band unites intricate, dramatic, often uplifting music that constantly surges and relents with the vivid imagery of Victorino's lyrics, which struggle with disappointment and despair while still demonstrating emotional growth. His vocals express a palpable ache and longing that demand listeners to bear witness to his affecting personal revelations.

Live at the Fillmore, the group performed songs that will soon become familiar to a much larger audience, including "Waiting," "Today," "We've Changed," and "When It's All Burning"—songs from Strata's independently released Internet-only album, When It's All Burning, and more recent EP, now the industry is outnumbered ... their factories are burning down, that are slated for the new record—before closing with the soon-to-hit-radio "The Panic."

"These songs mean an awful lot to us, so thanks for staying in the room and clapping," Victorino told the audience, later putting his hands together and applauding for them in appreciation. "You guys were absolutely wonderful. Thank you." Go to www.stratadirect.com for updates.

HOT TOPIC: This Saturday (May 29) at 4pm, the Pacific Art Collective presents an all-ages PAC Session at Emma's (177 W. Santa Clara St., San Jose) with performances by Life With Jonas, Kaweh, Polly's Orchid and Mr. Lexicon plus live painting, spoken word and DJs. Visit www.pacificartcollective.com. ... There's hardly a better place to catch Primus than the Greek Theater in Berkeley and this Sunday (May 30), the Hallucino-Genetics tour brings Les Claypool, Larry LaLonde and Tim Alexander together to perform the complete Frizzle Fry album and then some. Visit www.primussucks.com.

PLAN AHEAD: Day One Symphony, May 27 at C&J's in Santa Clara; Atomic Mint, May 29 at the Britannia Arms in Cupertino; Chromata, May 30 at Fanny & Alexander's in Palo Alto; More Than Enough, May 30 at the Gaslighter Theater in Campbell.
---
Send a letter to the editor about this story to letters@metronews.com.
---
[ Silicon Valley | Metroactive Home | Archives ]