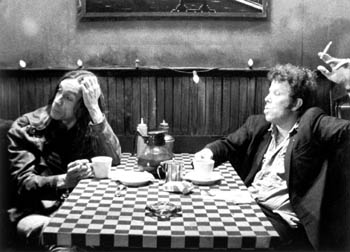 Photograph by Jim Jarmusch

Java Junkies: Iggy Pop and Tom Waits ruminate in 'Coffee and Cigarettes.'

Smoked Out

Either light up or leave them alone: 'Coffee and Cigarettes'

By Richard von Busack

JIM JARMUSCH'S 10 short films from 1986-2003 are gathered under the title Coffee and Cigarettes. It's just that simple: conversations tied together with java, coffin nails and a few repeated comments: "What kind of lunch is coffee and cigarettes?" is the one that comes up the most. It's a kind of experiment to see who will click with whom by putting characters together at a table with an ashtray, dinky espresso cups or the bottomless cup of coffee at grime-ball diners. "A great thing that sucks," as cartoonist Terry LaBan once called that endless black river of coffee-shop coffee, a drug available for a buck fifty for those who have the guts for it.

These celebrity blind dates represent a strategy that a filmmaker can't help but win with. If the actors sit there glumly, it's their fault. However, the director will earn nothing but congratulations if he divines moodiness in Tom Waits or is fascinated by the slang of the Wu-Tang Clan, if he picks up the intensity of Iggy Pop—hark how young that voice still is, coming from that ruined face—or susses out that weird vibe connecting Meg and Jack White (a.k.a. the White Stripes). Actually, Jarmusch's best visual idea is to mirror the odd energy between the Wednesday and Puggsley Addams of Detroit rock to the eldritch crackling voltage of a Tesla coil.

But the jittery caffo-nico buzz wears off. Once Jarmusch has set up a tableau, he seems to lose interest in where it goes. The early sequence of Cinque and Joie Lee patronizing Elvis fans is aggravating; Spike Lee's brother probably still believes the lie he tells about Presley. (The "shoeshine" tale is refuted on Snopes.com.) What's best in Coffee and Cigarettes isn't due to Jarmusch; it's due to the splendid old-fashioned craft and actor's guile of Cate Blanchett. She play an eager-to-please but defensive movie star trying to force in some quality time with a slouching, embittered cousin. The sequence is a rare example of an actress working out some self-hatred and making an audience like it.

Next to that, the most fun was provided by the ever-amusing Steve Coogan and Alfred Molina. The gaff is that Coogan is bitterly English, hating Hollywood, the people and the improperly brewed tea—and "palm trees annoy the fuck out of me." Molina is contented, thoroughly Californianized, so much so that he's equipped with that one devastating weapon of defense we Californians have when someone from out of state is trying to get something from us. What I mean is that maddening passivity that admits the existence of neither "yes" nor "no."

Avoiding that bred-in-the-bone passivity, I'll come out with it. As soon as I stopped smoking marijuana, my interest in Jim Jarmusch went right out the door, zooom. The silver-plated nada of Ghost Dog and Dead Man—extravagantly praised as they've been elsewhere, as examinations of white guilt and ruminations on genre cinema—seem like some of the shallowest work the art houses exhibited in the 1990s. Jarmusch is best in small doses, and here they are. The only problem is that they're 10 small doses in a row.
---
Coffee and Cigarettes (R; 96 min.), directed and written by Jim Jarmusch, photographed by Tom DiCillo, Frederick Elmes, Ellen Kuras and Robby Müller, and starring Cate Blanchett, Tom Waits and Alfred Molina, opens Friday.
---
---
Send a letter to the editor about this story to letters@metronews.com.
---
[ Silicon Valley | Metroactive Home | Archives ]