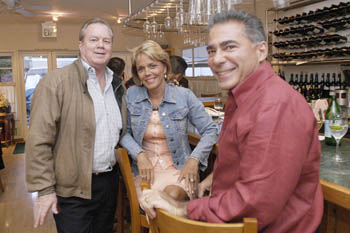 Photograph by Charlie Nucci

Shiny Happy People: Being steadily good for over a decade has earned Cafe Marcella a font of gourmet regulars.

Chomps Elyseés

Thirteen years is a lucky number for French food at Cafe Marcella

By Joseph Izzo Jr.

ARRIVING at Cafe Marcella 15 minutes before my guests, I asked for a table and sat there alone, soaking in the tranquility of the atmosphere. Cafe Marcella is an easy place to like. It's smart and classy, but humble; it has the feel of an uptown restaurant without the pretentious clang and clutter. Dinner here unfolds like a soft, silk napkin.

Thirteen years ago, the owners opened Cafe Marcella with a clear vision: to serve food that embraces tradition with imagination and contemporary flourish. They've stayed on course since then without compromising their values or caving in to the whimsy of culinary trends. The food is the product of simple preparation that thoroughly engages both eye and palate.

Marcella's understated French provincial décor continues to create elegance without lofty formality. I've always been impressed by the warm, rustic touches that invest the quarters with a feeling of village conviviality. The room is divided in half, with a wine bar on the left side that provides seating for patrons who are on solo ventures or just want to sip some vintage grape with a friend. Many were doing just that the evening we visited. The artwork of Isaac Maimon, depicting women of fashion in bold patterns and bright colors, casts a powerful spell on this interior. These enchanting reproductions seemed so much alive I commented at one point how I could almost smell the perfume of the women and hear them speaking in low voices. Cafe Marcella resonates with personality.

Like everything about Marcella, each dinner course arrived well tuned and on key. Dinner opened with a duet of appetizers from the sea, the first of which partnered large scallops ($13), seared fast, with field-fresh asparagus glossed in a modest beurre blanc. Our next selection, sautéed abalone ($14), was just too tempting to pass up. The delectable shellfish had been pounded into small medallions, then sautéed in a beurre blanc—as smooth and as glassy as the first, only this one was infused with lemon and chives. Field greens tossed with red-wine vinegar and olive oil subdued the richness with a clean, tangy bite.

Our pasta course sparked discussion about the origin of Spaghetti Streetwalker ($14). I had heard the story behind puttanesca (also offered here, $14), which was reportedly created by the harlots of Naples to give them strength and stamina, but knew nothing about the streetwalker recipe. With similar penetrating flavors of tomato, onion, Italian bacon and capers, this dish, with its energizing flavors, told a parallel tale.

We calmed our palates—and emotions—on the soothing properties of musk and earth that emerged in the wild mushroom linguine ($15). Three styles of fungi—shiitake, crimini and oyster—came together in a sauce turned to velvet with Madeira and cream.

Because we were sharing entrees, the kitchen made service convenient and tidy by placing all of them on one platter, each with its own appropriate sauce. The Colorado rack of lamb ($33)—roasted to a sanguine rare in a crust of herbs and mustard—arrived cleaved into handy chops resting on smashed Yukon gold potatoes. Filet of beef ($33), which melted in the mouth like butter, bunked on a bed of more Yukon gold, drizzled with a sauce based on cream, bleu cheese and applewood-smoked bacon. A manicured steak of pan-roasted swordfish ($24) balanced the red meat-dominated platter with a touch of the ocean. The fish came with tender, leafy bok choy and more of those ubiquitous Yukon spuds.

Crème brûlée (special) claimed the spotlight during the dessert course. After one spoonful, my guest claimed with confidence that when done right, crème brûlée "can be tasted at the back of the throat." We also enjoyed the bread pudding made without raisins and nuts.

Our evening at Cafe Marcella began and ended on a high note that echoed throughout the night. This restaurant holds together with great integrity, bolted into place with unflagging consistency.
---
Cafe Marcella
Address: 368 Village Lane, Los Gatos
Phone: 408.354.8006
Hours: Lunch 11:30am Tue-Sat, dinner 5pm Tue-Sun
Cuisine: New Italian
Price Range: $8-$33
---
---
Send a letter to the editor about this story to letters@metronews.com.
---
[ Silicon Valley | Metroactive Home | Archives ]