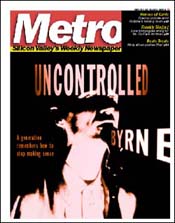 For the Week of
May 27-June 2, 1999
Cover: Heads Up
The rerelease of 'Stop Making Sense' gives us a chance to revisit one of the most pivotal and provocative works of late-20th-century film and music, writes Richard Von Busack.
News: Stucco Gate
The dream of home ownership falls apart in Hollister--literally.
So Long, Jack: Jack Allen's death closes the book on a period in San Jose's history.
Cupertino: CCS seeks applications for low-income apartments.
Teen There, Done That: Campbell's Chemical Free Zone, a punk rock party pad for teens, goes searching for a new home.






He Had a Plan: Mr. T. Experience's Frank Portman lusts after love in new album, 'Show Business Is My Life.'
Kick Back and Relax: Robert Cray and mates find their comfort zone on soulful 'Take Your Shoes Off' album.
Play Time for Moby: Electronic-music star lets the spirit move him on new full-length album 'Play.'
Blues Weekend: Jimmie Vaughan and Greg Allman headline blues festival in Santa Cruz.
Aural Fixation: Songwriter Stuart Davis grinds fine at Stanford Coffee House.
Audiofile: Review of the latest CD by Boy Kicks Girl.



Misteaks on the Menu: If we can't trust a restaurant's attention to spelling, how can we trust their attention to culinary details?



Behind the Mask: 'Open Your Eyes' dreams about reality.



Enchanted 'Pacific': The Rodgers and Hammerstein classic shines again at SJ Musical Theatre.



Plain Talk: 'The Curse' digs beneath the euphemisms about menstruation.



Please don't forget to write! Metro welcomes letters. Like any great work of art, they should be originals -- not copies of letters sent elsewhere. Include address and daytime phone (for verification purposes only). Letters may be edited for length and clarity or to correct factual inaccuracies known to us. Postal: Metro Letters, 550 S. First. St., San Jose, CA 95111. Fax: 408/298-0602. . Emailers, please include name, city of residence and phone number. Letters printed will list email address unless otherwise specified. Letters to the editor are not currently published in the online version of this paper.