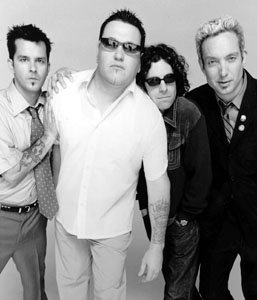 Smash Mouth headlines the Concert for the Homeless.


Mad RevivALL

The Union City metal band spread its insanity at the Cactus Club last Friday

By Sarah Quelland

A FEW WEEKS AGO, I noted that the Icon Nightclub wasn't in the habit of booking up-and-coming bands like RevivALL, a five-man metal outfit based out of Union City. That was enough to prompt the Icon's talent buyer, Jimmy Arceneaux, to roll out to the band's show at the Cactus Club last Friday (May 24) to see what all the fuss was about. He was visibly impressed. "I was blown away," Arceneaux told me after the band's set. "It's kind of what I was hoping Slipknot would be, but [Slipknot] never delivered."

Each player in RevivALL brings his own element of madness to the stage, and unlike Slipknot, the band doesn't need any masks or costumes to make an impact. It's not just the music or the image, but the complete package that makes this young group so remarkable. Onstage, frontman Joel Doty seems plagued by voices that circle his head like flies, their incessant buzzing driving him to the brink of insanity. Guitarist Alex Abalos is a complete maniac, and bassist Mike Canfara plays with the unsettling smile of a serial killer spread across his face. RevivALL also boasts two drummers: drum-set player Zeki Iscan and tribal drummer John Foust, who brings even more chaos to the band's stage, pounding his head against the skins and dangerously raising his drums toward the ceiling before crashing them back to the floor. Unpredictable and fairly disturbing, this intimidating band may not have any obvious radio hits, but it gives a performance worthy of the main stage at OzzFest. The group's website is still in development, but visit www.revivall.net for updates.

ALL THE NEWS: In conjunction with Jethro Tull's June 5 performance at the San Jose Center for Performing Arts, flute player Ian Anderson is hosting a special private reception and preshow sound check from 4 to 6:30pm as part of a fundraiser for the Andean mountain cat, a feline-conservation benefit sponsored by Wild About Cats and the Wildlife Conservation Network. Seventy-five passes are available to the public for a $200 contribution. Visit www.j-tull.com for details. ... Smash Mouth has been confirmed to headline another fundraising effort, the annual Concert for the Homeless held July 3 at Discovery Meadow in San Jose. Remy Zero, Dropline and Aurora are also scheduled to perform. Proceeds benefit the Emergency Housing Consortium. ... Skinlab holds its record-release party for reVoltingRoom--an album that's seen numerous delays--Friday (May 30) at Slim's in San Francisco. 36Crazy Fists, Unjust, 40 Grit and Hostility round out the lineup, and tickets are $5. ... Local musicians are organizing the two-day A New Hope Festival for June 28-29 at the Cactus. Reaction 31, Element of Surprise, Movement, Starch, My New Life, Two Steps Behind, A Burning Water and Sora perform on Friday, while Insolence, Divided, Moodfrye, Superchannel, the Restitution, Lavabone, Keeping Ellis and Quitter play on Saturday. This is a farewell festival and celebration of the contributions the Cactus has made to the local music community over its 14 years in business. Proceeds will be used to expedite the opening of a new venue in the South Bay. ... While property owner and local club mogul Jacek Rosicki still won't discuss his plans for the 417 S. First St. building after the Cactus closes on June 30, he is eager to announce his plans for the Agenda site located at 399 S. First St. in downtown San Jose. He says the City Planning Commission just approved his new project, the Agenda Annex, a restaurant, nightclub and event space that will be built behind the existing outdoor patio. Construction is slated to begin in October. ... Meanwhile, the new Britannia Arms located at 173 W. Santa Clara Ave. next to A.P. Stump's in downtown San Jose has just opened for business.

PLAN AHEAD: Nadine's Wild Night with Triple Seven, Fighting Jacks, Ones and Zeros, Autopunch and Miggs, May 30 at the Usual; Control Theory, sixseven, Analog Heroes and Differential, May 30 at the Cactus; Mates of State, APPLESEED Cast and the Infinite Ex's, May 30 at Great American Music Hall in San Francisco; Dave Meniketti, May 30 at the Icon Nightclub; Fancy Hair Dragon and the Feathers, May 31 at Plant Fifty One.
---
Send a letter to the editor about this story .
---
[ Silicon Valley | Metroactive Home | Archives ]