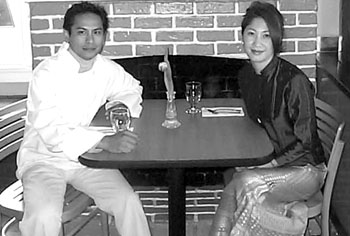 A Blessing On Your Pla Rad Pik: Thai Orchid balances sweet and spicy and your bank book.

Perfect Harmony

With perfectly balanced flavors and many fine choices, Campbell's Thai Orchid gets it right

By Corinne Asturias

THESE DAYS, Thai food is like yoga: places seem to be cropping up everywhere, but not all have created themselves equally. To do Thai food well, one must understand what this generous, balanced and gracious culture is all about, and find expression through fine ingredients and careful preparation, all within the walls of a kitchen and dining room in America.

Not an easy feat, but lucky for us, this is exactly what has happened at the newest incarnation of Thai Orchid in Campbell. My dining companion, Mundo, and I breathed sighs of relief last week as we entered the arch-shaped front door of this converted house on Campbell Avenue.

Walls of celadon and sage evoked the coolness of a bamboo garden, and white-trimmed windows looked out on a manicured yard. Gone are all vestiges of the much loved Togo's sandwich shop that occupied this spot for decades. Instead, white linens and fresh flowers and carpets sculpted with green leaves gave the cozy rooms a welcome elegance.

On this particular evening, the subject of balance was on our minds--that much-sought-after balance between work, health, play, family time and romance. And what better way to mull the merits of balance than over Thai food, where the blending of tart and nutty, sweet and spicy, and hot and cold is an art form.

We started by perusing the appetizers menu, which served favorites like fresh rice-paper rolls ($3.95) and crispy tofu ($4.95) along with fresh oysters at a dollar each. Mundo chose hearty satay chicken ($5.95), which soon arrived piping hot and tender, glazed with seasonings and ready for dipping into cool sauces of pickled cucumber and creamy peanut.

I sampled the Pla style salad with tofu ($5.95), a tart blend of finely shaved lettuce, cucumber, tomato, onion, cilantro and lemon grass. I also opted for a small bowl of the Special Sea Bass Soup ($3.95), rich fish stock, tangy lemon and chile pepper bobbing with plump mushrooms and shards of buttery sea bass. A masterpiece of harmonizing flavors and satisfying richness, a larger bowl of this soup could easily make a meal.

Thai Orchid's menu gives diners the option of curries or sautés made with tofu, chicken, beef, prawns, calamari and in some cases duck, scallops or mussels. Most fish entrees are offered with a choice of sea bass, catfish, pompano fish or salmon.

We zeroed in on an order of green curry prawns ($9.95) and Pla Rad Pik ($10.95), a sweet and spicy dish made with crispy pompano fish. The generous platter of prawns blossomed with the floral taste of fresh basil, the light sweetness of coconut and the lingering warmth of green chiles. The Pla Rad Pik arrived on a beautiful fish-shaped platter, swimming in a scrumptious red chile sauce with peppers and mushrooms. The fish, we decided, was not as crispy as in some locales where the entire thing--bones and all--can be consumed in crunchy bits, but it was fresh and plump. The sauce was completely addictive and found its way onto everything else on our plates.

I was beyond eating another bite, but Mundo had been eyeing the fried banana with coconut ice cream ($2.50). It came to the table in a high porcelain dish, with two hot, crispy, tempura-fried bananas supporting a globe of coconut-pineapple ice cream. The contrast of the hot crunchy banana against the frozen pineapple-coconut ice cream was a monument to contrast and balance that will linger.

Service here, it must be mentioned, is as sweet as dessert. A team of attentive servers caters to diners' every whim without being overbearing. Experience has paid off for this group, which also operates the White Orchid and Thai Noodle House on North Point Street in San Francisco and a second Thai Orchid location on North First Street in downtown San Jose.

With reasonable and generous lunch specials ($5.95-$7.95), an impressive noodle soup and salad menu, and weekend hours (till 10pm) that go with working lifestyles, Thai Orchid is a place worth visiting again and again.
---
Thai Orchid
Address: 866 E. Campbell Ave., Campbell
Phone: 408.626.9779
Hours: Lunch 11am-3pm, dinner 5pm-9:30pm daily, Fri-Sat until 10pm
Entrees: Moderate
---
---
Send a letter to the editor about this story .
---
[ Silicon Valley | Metroactive Home | Archives ]