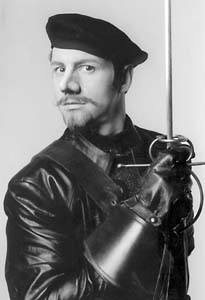 Brown-eyed Hansen Man: John Hansen makes his point in 'Cyrano.'





Sniffing Out Love

SJ Rep's trimmed-down 'Cyrano' captures the play's essence

By Michael J. Vaughn

THE ANNOUNCEMENT of a "new adaptation" of a classic work makes the average theatergoer a bit nervous. A tweak here, a tweak there is all right, after all, but there's a reason a work has survived the years, and most people would like to see this artistic heart undeconstructed, thank you.

Frank Langella's 1997 adaptation of Cyrano de Bergerac is more of an ambitious pruning, taking Edmond Rostand's 50-plus cast down to 11 while eliminating much of the poofery from the text. The play's heart-wrenching romantic triangle, meanwhile, remains fully intact. Except for the insertion of a Don Quixote reference (thanks to Langella) and a Bruce Lee squeal (thanks to our Cyrano, John Hansen), the average viewer might not even know San José Repertory's production was any different from the original.

A lot of this is due to Hansen's exceptional lead performance. Hansen's portrayal is edgy and athletic, lending strength to the play's nose-inspired bitterness as well as the luscious humor that blossoms from that painful ground.

The frequent parodies of Cyrano's comic scenes--notably the balcony scene where Cyrano feeds woo-lines to his tongue-tied friend Christian (Michael DeGood)--often obscure Rostand's true master stroke: the fact that Cyrano himself is perilously in love with Roxanne, prevented by his grotesque looks from doing any more than speaking his passions vicariously.

The play's universal appeal comes down to that one shared fear: we all have a de Bergerac nose, in one form or another, that brings out our insecurities and keeps us from our fondest desires. When asked why he doesn't tell Roxanne of his feelings, Cyrano replies, "She might laugh at me."

DeGood does a great job with Christian's doofus befuddlements, turning the balcony scene into a piece of high physical comedy. Another treat is Elaina Erika Davis as Roxanne. I have never been all that fond of the character--whether it's devilish good looks or flattering poetry, her sights are always on the external--but Davis lends her a Hepburn-like quirkiness that makes her believable at least as a part-time bohemian.

Under director John McCluggage, the cast also turns in some fine supporting performances, especially Lorenzo Gonzalez's turn as Cyrano's ever-chiding friend Le Bret and Karl Ramsey's pathetic posturing in his scene-1 duel with Cyrano (nicely choreographed by Gregory Hoffman).

The cast was almost overshadowed by Dipu Gupta's sumptuous set, centered on a 30-foot-high, faux-metallic expressionist moon (a reference to Cyrano's love of same satellite). Given such a monstrous backdrop, Gupta had only to hang down a trio of bare branches and drop a few leaves from the rafters to evoke autumn, or send in a couple of battlements and a few puffs of stage smoke to set the war scene.

Costumer Lydia Tanji practices similar understatement, dressing her French warriors in a mix of 17th-century accessories and 20th-century leather jackets and berets to create an effective now-and-then neutrality. Jeff Mockus throws in Spanish trumpet laments a la Miles Davis, clouding the centuries even further. If Rep's message is to underscore the timelessness of Rostand's work, then the point is taken. The story is unstoppable.
---
Cyrano plays Tuesday-Friday at 8pm, Saturday at 3 and 8pm and Sunday at 2 and 7pm through June 10 at the San José Repertory Theatre, 101 Paseo de San Antonio, San Jose. Tickets are $17-$37. (408.367.7232)
---
[ San Jose | Metroactive Central | Archives ]