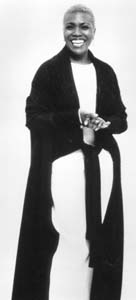 Towering Star: Vocalist Dee Dee Bridgewater anchors the last day of this year's jazz festival.





Urban Jazz Preserve

Jazz Society announces lineup for August's free downtown Jazz Festival

By Al Roberts

LONG BEFORE Ken Burns made America's classical music fashionable on PBS, valley residents were enjoying a magnificent free jazz sampler every August. The AT&T San Jose Jazz Festival (sponsored by Southwest Airlines and put on, appropriately enough, by the San Jose Jazz Society), now heading into its 12th year, provides a variety of forums in downtown San Jose for scores of bands and performers--and for nearly 150,000 grateful listeners.

The lineup for this year's edition of the festival--which runs Aug. 8-12--was announced Wednesday. Among the big names is sentimental pick Pete Escovedo, who recently relocated to L.A. but apparently can't resist the lure of his old stomping grounds. He will perform Friday (Aug. 10) with vocalist Marlena Shaw at the official kickoff concert at 7:30pm, in Plaza de Cesar Chavez, following a 5:30 show with Brazilian band Vivendo de Pão.

Saturday's Main Stage (also in Plaza de Cesar Chavez) lineup features swing-oriented vibraphonist Joe Locke's Storytelling and Puerto Rican trombonist Papo "Angel" Vazquez and his Pirates & Troubadours band. In the evening, the Main Stage hosts Angelique Kidjo, an African pop singer.

For Sunday, the roster encompasses Brazilian group the Jose Neto Band; pianist Kenny Barron with violinist Regina Carter; Steve Turre, whose multi-instrumental talents include the conch shell; and jazz singer Dee Dee Bridgewater, winner of two Grammys. Both days run noon-8pm.

Some of the most interesting music at the festival can be found away from the plaza at some of the other eight stages. Of particular note is a joint appearance by young pianist Taylor Eigsti and Japanese clarinetist Eiji Kitamura. In addition to Escovedo, Latin jazz will be well represented by Claudia Villela and John Santos & Machete.

As always, everything is free, except for two fundraisers. The gala concert on Wednesday (Aug. 8) benefits the San Jose Jazz Society's many educational programs. This event ($15 seniors and students; $25 general) will spotlight the big-band sounds of the Tommy Dorsey Orchestra under the command of Buddy Morrow, one of Dorsey's trombonists. The show takes place at 8pm at the San José Repertory Theater.

The sun should be out in full force in August, but the real hot spot will be the Saturday Night All Star Jazz Jam at which festival musicians show up, starting at 8:30pm, for a free-blowing session. The rhythm section for this sure-to-be incendiary session will be pianist Al Plank, drummer Vince Lateano and bassist Michael Zisman. The ticket cost ($10) also goes to educational programs. One of the most active jazz educators in this area was the late pianist Smith Dobson, who died in a car accident earlier this year. In Smith's honor, there will be a special Tribute Stage.

In the interests of full disclosure, we sure note that Metro is one of the media sponsors of the festival. On Thursday (Aug. 9), Metro's Music in the Park Series will become part of the festival's proceedings, starting at 5:30pm.
---
The 12th Annual AT&T San Jose Jazz Festival takes place Aug. 8-12 in Plaza de Cesar Chavez and other San Jose downtown venues. With the exception of two fundraisers, all concerts are free. Call 408.288.7557 for details.
---
[ San Jose | Metroactive Central | Archives ]