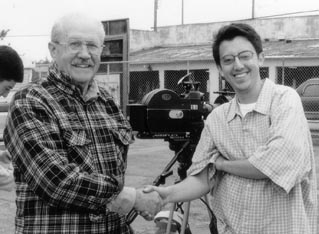 Wheels of Fortune
Coming of age in film school means making your own movie on the cheap. San Jose native and aspiring filmmaker Kirk Diaz is determined to 'Keep Driving.'
By Mary Spicuzza
THE RESIDENT ROOSTER at the San Jose Auto Outlet on South First Street struts in circles around young filmmaker Kirk Diaz and his mass of movie cameras, actors and crew. The feathered groupie stays mostly in the shade, knowing that the combination of blazing sun and sweltering blacktop could easily roast his buff breast. But Diaz and company, who barely slept the night before and are still behind schedule, simply slather on more sunscreen and delve into the next take. They've got deadlines to meet, borrowed equipment to return, and homework to do for their film classes at New York University. And it was hard enough for Diaz, an Evergreen native who has relocated to the East Coast, to get back to San Jose in the first place.
When Diaz revealed plans to film his senior project, Keep Driving, back home in Silicon Valley, the concerned professor quickly reminded him of his limited production budget.
"He was like, 'You don't have money to do this,' " Diaz says. "Some of the other students, they have financial backing."
My mind flashes to a five-hour student film festival I attended recently, highlighted by a post-apocalyptic piece featuring mysterious femme fatale Irma Geddon. I try to imagine who helped bring such works of art onto the big screen.
"Rich parents?" I ask.
He shrugs with a laugh, "Yeah."
But Diaz, the film's writer and director, has decided that when the drive is there, the money will follow. With borrowed film-school equipment, three of his fellow students in tow, and credit cards filling his wallet, he bought tickets and hopped a plane bound for San Jose. Upon arrival he immediately began interviewing actors to help him tell his story, which involves a son, his father and an Alfa Romeo.
The son dreams of driving his emotionally distant dad's vintage car, which has remained propped up on blocks in the garage since his mother walked out on them. The father, who once lived for long road trips, now broods incessantly, unable to break from regrets over his reckless, freewheeling lifestyle.
Diaz admits that most first-time scripts are basically memoirs with fake names.
"I take an experience that I've had and go from there, but this film isn't all about my family," Diaz explains. "But I do love to drive. I love the idea of driving, the freedom it offers. You're in control, not at the will of somebody else."
Except in the blistering heat of filming in downtown San Jose, where the fearless crew finds itself at the will of Alfa Romeo owners. Diaz and company quickly learn that finding a classic Alfa convertible is hard enough, but finding one that runs is about as likely as getting Gwyneth Paltrow to make a cameo appearance.
But while the director may enjoy the control of solitary driving, the experience of making a film has taught him the joys of delegation. Danny Meltzer, his assistant director, spends most of the morning of the shoot on an Alfa search mission.
When he finishes editing Keep Driving, Diaz plans to submit it to the school's annual First Run Film Festival and similar independent fests around the globe.
Ultimately Diaz hopes to sit in the director's chair, following the path laid out by filmmakers Martin Scorsese, Spike Lee and Oliver Stone. All of them started their careers making shorts while studying at NYU, but have gone on to much bigger, and less Attention Deficit Disorder-friendly, films. But his attention is now focused on finishing the four months of editing ahead.
He has spent $8,000 and only raised $3,000 so far. He estimates that the budget will total $10,000. The budget may be limited, and the credit card interest is adding up quickly, but Diaz says that not finishing Keep Driving is just not an option.
"That's all I have--the belief in my own talent and my own ability."
Now that he's found a running Alfa, that is all he really needs.
[ San Jose | Metroactive Central | Archives ]