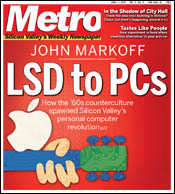 For the Week of
June 1-7, 2005
Cover Story: John Markoff: LSD to PCs:
How the '60s counterculture spawned Silicon Valley's personal computer revolution.
News: Up Against City Hall:
If the shock of the project's price tag wasn't enough, the aftershock is being felt in the streets next to the new building.
The Fly: Conan the Incumbent Booster.



Silicon Alleys: Ultra Hate.
Techsploits: Everybody Loves Vader.
Rev: Bush Deconstructed: Biodiesel's secret is that Republicans love to support it, too



He Will Rock You: In the documentary 'Rock School,' wannabe guitar gods learn their power chords the old-fashioned way.
Pigskin: Adam Sandler doesn't go the extra mile in remake of 'The Longest Yard.'
The Pants Recaptured: Trou for one, one for trou: 'The Sisterhood of the Traveling Pants' hits the screen.



Panic in Detroit: Soul brother Dwele reps his city and its rock heritage.
The Newlyweds: Spazz-rock trio Oneida take a baroque turn.



Shame vs. Guilt: 'Bangkok Tattoo' explores the culture of shame.
The Whole Noyce: Stanford historian Leslie Berlin tracks the high-tech life of chip father Robert Noyce in a new biography.



Secret's Out: Kabab and Curry's in Santa Clara is about to break big in the Indian cuisine scene.
Live Feed: You Are What He Eats.
5 Things to Love: Great Camping Foods.



Please don't forget to write! Metro welcomes letters. Like any great work of art, they should be originals — not copies of letters sent elsewhere. Include address and daytime phone (for verification purposes only). Letters may be edited for length and clarity or to correct factual inaccuracies known to us. Postal: Metro Letters, 550 S. First. St., San Jose, CA 95111. Fax: 408/298-0602. Email: letters@metronews.com. Emailers, please include name, city of residence and phone number. Letters printed will list email address unless otherwise specified. Letters to the editor are not currently published in the online version of this paper.