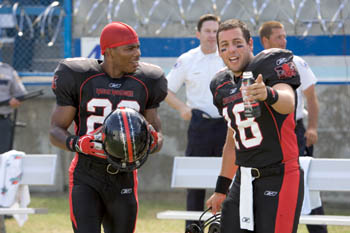 Photograph by Tracy Bennett

And That's Burt Reynolds in the Toupee: Adam Sandler (right) talks trash to Nelly in 'The Longest Yard.'

Pigskin

Adam Sandler doesn't go the extra mile in remake of 'The Longest Yard'

By Richard von Busack

IT IS STRANGE to see all the computer-animated pomp of a movie studio logo in front of an Adam Sandler movie. The Longest Yard gets two: a wheel of animated stars falling on Mt. Paramount, followed by Lady Columbia in the clouds. What Sandler really needs before the titles of one of his opuses is a guy to come out, pop a tab on a beer and scratch his balls. In The Longest Yard, the men are pulling dick-rank on each other, so this round doesn't seem quite as misogynist as some of his films. Surrounded by guys who address each other as "bitch," Sandler seems at home. The uneasy smile and the dead squinty eyes never react to anything they haven't seen before.

Sandler plays Paul Crewe, a bum of an ex-football player on probation, barred from the NFL after a point-shaving scandal. Crewe goes on a binge and wrecks his rich girlfriend's car and is sentenced to a fictional Texas federal prison called "Allenville." The warden (James Cromwell, doing the part that the late Eddie Albert originated) requests Crewe to join in a guards vs. inmates game. Crewe joins together the various misfit prisoners into a unit. A few crises test our hero's resolve, before he rallies for the final touchdown in the last nanosecond.

As the sidekick, Chris Rock serves his time and doesn't make any trouble, just like a good inmate. After some tremendously lame gibes about white people, Rock passes out of the film in accordance with the oldest requirements of the action movie. (This prisoner runs afoul of the law, the "brother law.") Some of the physical specimens in this movie give it a little interest. The lineup includes professional wrestler "Stone Cold" Steve Austin as a villainous guard; among the prisoners are ex-Chicago Bears third-round draft pick Bob "The Beast" Sapp, who turns out to have a flair for comedy. Sapp's address of Michael Jackson as "li'l Michael" is rightly used in the trailers; it's the funniest thing in the movie. As a Frankenstein-sized madman, the formidable 7-foot-2 ex-Mr. India, Dalip Singh, actor, body-builder and policeman, is probably the biggest human being we've had in the movies since Ted Cassidy died.

Visually, the movie isn't an affront. It was filmed in the Sangre de Cristos in a former New Mexico prison, so the light seems fresh even if nothing else does. Though it is a prison movie, there are almost no cell scenes. Longtime Sandler companion Peter Segal (Anger Management, 50 First Dates) pumps the movie with antique rock tunes, such as CCR's "Have You Ever Seen the Rain?" and figures rightly that the songs will impart some pace to his images.

One moment says it all: Burt Reynolds, star of the 1974 original, turns up to coach the team. He's presented in a halo of sunset and stirring music. Reynolds, this legendary coaster—so completely uninterested in his day, so addicted to fast-buck, terrible movies—is treated as a figure of great integrity. The scary thing is, compared to Sandler, Reynolds looks like a representative of classic Hollywood.
---
The Longest Yard (PG-13; 114 min.), directed by Peter Segal, written by Sheldon Turner, story by Albert S. Ruddy, photographed by Dean Semler and starring Adam Sandler and Chris Rock, plays valleywide.
---
---
Send a letter to the editor about this story to letters@metronews.com.
---
[ Silicon Valley | Metroactive Home | Archives ]