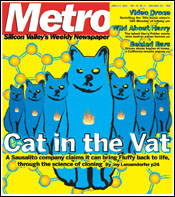 For the Week of
June 2-8, 2004
Cover Story: Cat in the Vat:
A Sausalito company claims it can bring Fluffy back to life, through the science of cloning.
News: Free-Speech Lockdown
California prisons are a reporter's nightmare. Will new legislation change that?
The Fly: This week's political bites.
Bad Medicine: Seniors turn to Canada as new Medicare bill fails to deliver.



Biter: Watching history repeat itself at a preservation party.
Techsploits: Voting science, or even sticking to a science party line, isn't as easy as you might imagine.
Rev: It's crazy to waste our dwindling, nonrenewable resources on stupid things like dashboards and door panels.



House Detective: Local author George Espinola tracks down downtown San Jose's architectural memories.



Y Tu Wizard Tambien: Director Alfonso Cuarón breathes new life into the Harry Potter series with a darker, more coherent third entry.
Snow Globe: 'The Day After Tomorrow' brings floods, twisters and hurricanes—somewhere in movie Valhalla, Irwin Allen gnashes his teeth.
The Firm: A new documentary explores the bottom line on 'The Corporation' culture worldwide.
Corporation Man: An interview with documentary filmmaker Mark Achbar of 'The Corporation.'
May in December: 'The Mother' and her daughter love the same unsuitable man in the new London.



Look Back in Horror: What a drag it is getting old.
Aural Fixation: The Lost Trailers travel America on their label debut, 'Welcome to the Woods.'



Being Shellfish: McCormick and Schmick's downtown seafood restaurant nets an ocean's heaven.
Club Life: Mission Ale House in San Jose.



Please don't forget to write! Metro welcomes letters. Like any great work of art, they should be originals — not copies of letters sent elsewhere. Include address and daytime phone (for verification purposes only). Letters may be edited for length and clarity or to correct factual inaccuracies known to us. Postal: Metro Letters, 550 S. First. St., San Jose, CA 95111. Fax: 408/298-0602. . Emailers, please include name, city of residence and phone number. Letters printed will list email address unless otherwise specified. Letters to the editor are not currently published in the online version of this paper.