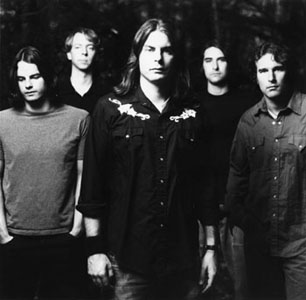 Photograph by Karen Walker

The Lost Trailers explore their roots.

Scenic Route

The Lost Trailers travel America on their label debut, 'Welcome to the Woods'

By Sarah Quelland

THEIR FIRST OFFICIAL SHOW together as a full band was in 2000 when they played Willie Nelson's annual Fourth of July picnic in Texas—hardly a bad place to start. Before then, the group existed as the duo of singer/songwriter/guitarist Stokes Nielson and keyboardist Ryder Lee. With their big debut looming, the two quickly recruited trusted friends and family Manny Medina (rhythm guitar), Andrew Nielson (bass) and Jeff Potter (drums), and the Lost Trailers hit the pavement. After four years of touring, the group recently released its label debut, Welcome to the Woods, on Republic/Universal Records. The title nods toward a bit of sage advice Nelson imparted to Nielson upon their first meeting: "If you build a house of quality in the woods, the world will beat a path to your doorstep." The Lost Trailers built their house in the woods on the American rock traditions carried on by the Allman Brothers, Bruce Springsteen, Tom Petty, Bad Company, Bob Seger, the Black Crowes and Pat Green. Their early song catalog reads like a road map of America, with titles like "Birds in Boston," "Detroit Mama," "Dougherty County," "First Train to Georgia," "Kansas City" and an unreleased song called "NYC" that has nothing to do with 9/11 but rather was written after the 1999 shooting death of African immigrant Amadou Diallo.

Influenced by authors like Ernest Hemingway and William Faulkner and inspired by the songwriting of Springsteen, Nielson's storytelling lyrics are an essential component of the Lost Trailers' rugged appeal. "Now my dreams are heavy things that are muddied by reality," he sings on the Springsteenesque fish-out-of-water tale "Longfall." Set in Los Angeles, the song goes on to reveal the hurt of a man whose girlfriend goes under the knife: "My girl loved the price of fame / I lost her when she changed her name / Her face used to feel so soft 'til her agent's doctor pulled it off." The music plays like a veritable who's who of American rock and there's a geographical sense of America's open roads and hard-luck experiences in everything the band does, from "Atlanta" to "The Battery," which is set in Charleston, Abilene and Bristol. Over the roadhouse boogie of "Averly Jane," Nielson relates, "Walkin' down these ol' graveled tracks 'cause I lost her at the Great Divide / I got my sweat-stained sleeve to wipe my brow dry / Every footprint is caked in rust / While my boots are shining rails, I fight the rising dust."

Americana poetry suffuses Nielson's lyrics. On "Walking Blind," he describes the "sad surrender of the summertime of my soul," and on "Yellow Rose" (which features Willie Nelson's harmonica player Mickey Raphael), he suggests, "There are moments when all you need is a cool pond and a memory." The lyrics often express a desire for freedom. On "Bad Habit," Nielson explains, "I'm only weathered 'cause I've had to fight against a world that wants to run our lives." The Lost Trailers save their darkest American drama for last. "Fire on the Pontchartrain" examines the emotions that lead a man to murder: "I never knew why men would turn to violence / Then I met you, and it came all too clear/ The whiskey, whining and constant lying and the cheating in our very own bed." The world should be knocking any second now. Visit www.thelosttrailers.com.

JJ'S SINGS THE BLUES: Another in a string of South Bay club casualties, 21-year-old San Jose blues institution JJ's Blues has been put on the market by owner June Stanley. Open seven nights a week, JJ's consistently gave new and established local and national blues artists a space to play in Silicon Valley and local blues fans routinely piled into the small hall. Despite its artistic success, the club has reportedly struggled financially. Stanley, who turns 63 this October, is ready to retire from running it.

HOT TOPIC: Hours before Dashboard Confessional hits the stage at the SJSU Event Center this Thursday (June 3), Channel 104.9 presents an Up-Close Session with Chris Carrabba at the Avalon in Santa Clara. Visit www.channel1049.com. ... Planet Marz presents an all-ages drug- and alcohol-free concert featuring Dubwize, Habanero, Tri-Plex, A Step Beyond, Drunken Starfighter and Pinche Hueros this Saturday (June 5) at the Oasis Club in San Jose. Visit www.planetmarz.com. ... Death Angel gives an in-store performance this Sunday (June 6) at 3pm at the Tower Records in San Francisco in support of its new record The Art of Dying. Visit www.deathangel.com.
---
Send a letter to the editor about this story to letters@metronews.com.
---
[ Silicon Valley | Metroactive Home | Archives ]