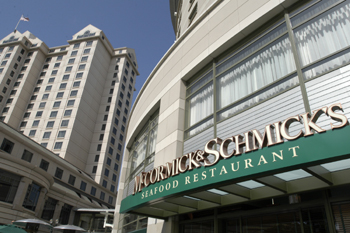 Photograph by Charlie Nucci

Big City Seafood: The catch of the day encompasses more than 30 species of fish at McCormick and Schmick's.

Being Shellfish

McCormick and Schmick's downtown seafood restaurant nets an ocean's heaven

By Joseph Izzo Jr.

MCCORMICK and Schmick's is a privately owned company in the business of building seafood restaurants. Across the USA, this dynamic duo marches, opening one establishment after the other in a pace that brings to mind Gen. Sherman and the Civil War.

Early this year, McCormick and Schmick opened yet another installment in downtown San Jose, across the street from Plaza de Cesar Chavez in the south tower of the Fairmont Hotel. This location is the ideal spot to swing wide the front doors—like the arms of Neptune—welcoming locals and visitors alike. On the menu are swimmers of all shapes and sizes, more than 30 species of fish to be exact.

McCormick and Schmick's harkens back to those big-city fish houses where tycoons and bankers ate lobster while doing business. The stately interior has been outfitted with traditional dark wood, handsome paneling and tall ceilings where voices resound solemnly. The classic fish-house garb has been modified with contemporary and Asian touches that succeed in softening the heavy masculine theme. Narrow channels between tables make navigation less convenient than we would have liked. For those preferring linen, ask to be seated at a table where the appointments are more formal. If not, settle on a wood-hewn booth set with paper place mats.

When it comes to fish, there's plenty of it at McCormick and Schmick's. The menu offers a veritable compendium of ocean dwellers, taken fresh from domestic and global waters. This ledger changes often—it's printed twice daily, I've read—to accommodate the alternating bounty of the sea. Many types of oysters are shucked to order.

We found one of our favorite items under the appetizer category. An abundance of silky black mussels ($7.90) steamed in a peppery bath of pulp tomato and red Thai curry was served, pouring steam from the pan. Also from the appetizer section, we had calamari ($11.80) deep-fried tender—not rubbery—in a crispy jacket that was unfortunately penetrated with the taste of the oil, plus ruby slices of seared ahi ($12.95), crusted around the edges with menthol herbs and served with a wakame-cucumber salad, wasabi and soy.

"I'd like to come in out of the rain with this one," said the Rev. Scullion about the seafood and roasted corn chowder ($2.85 cup; $3.85 bowl), cooked to a smooth, thick consistency. Traditional oyster stew ($6.90) really did follow tradition, by placing raw oysters to poach in a seafood broth enriched with cream and floating streaks of butter. So many varieties of fish are offered that decision making can be a problem. We bantered back and forth about what to order, until finally settling on a mix-and-match of dishes from both the specialties and the grill. Fresh salmon penne ($13.95) earned unanimous disfavor with its hazelnut cream sauce absolutely devoid of flavor. Everything was fresh, we could see that, but the ingredients—fish, pasta and wild mushrooms—could not be differentiated in this unyielding alfredo-style mixture. On the other hand, our pan-seared New Bedford sea scallops ($18.75) came in a simple state, exuding sweet ocean flavor.

We reeled in big success with a light, flaky piece of Baja corvina ($18.65), pan-seared golden and draped over a sauté of sweet potato, bacon and apple. From the grill, we went with Scullion's recommendation by ordering halibut from St. Petersburg, Alaska ($20.80). This piece of snowy-white fish spent little time over the coals before arriving moist, mild in flavor and wearing a scarlet crown of tart cherry chutney.

McCormick and Schmick's spends time devising delicious desserts, based on sound recipes. Upside-down apple pie ($6.95) with vanilla ice cream and white chocolate cheesecake ($6.95) convinced us that a trip here just for dessert would make sense. And why not? McCormick and Schmick's helps downtown improve its self-esteem. Having some seafood under the dark woods of this restaurant is just another reason to visit San Jose's burgeoning center.
---
McCormick and Schmick's
Address: 170 S. Market St., San Jose
Phone: 408.283.7200
Hours: Lunch 11:30am-4pm Mon-Fri; dinner 4-10pm daily
Cuisine: Seafood
Price Range: $4-$21
---
---
Send a letter to the editor about this story to letters@metronews.com.
---
[ Silicon Valley | Metroactive Home | Archives ]