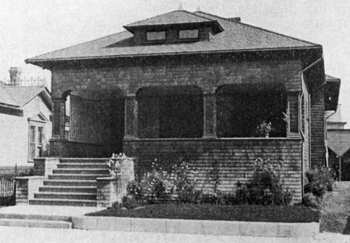 A Trip Down Memory Lane: Once the home of respectable German immigrants, 124. N. Sixth St. was later the scene of some memorable parties.

House Detective

Local author George Espinola tracks down downtown San Jose's architectural memories

By

WHEN I lived and imbibed with roommates at 144 N. Sixth St. in San Jose during the early 1990s and went to several raucous parties next door at 124 N. Sixth St., I couldn't have fathomed such behavior placed in a historical context. George Espinola's new book on architects Frank Wolfe and Charles McKenzie filled me in.

Cottages, Flats, Buildings and Bungalows: 102 Designs From Wolfe & McKenzie (Bay and Valley Publishers) documents the voluminous output of those two prolific architects in the early part of the 20th century, especially their mammoth influence on the residential character of downtown San Jose. Far from appealing just to old historians, Cottages, Flats, Buildings and Bungalows will pique the interest of anyone, young or old, who's lived in downtown San Jose, even for a few years.

Those two architects designed a staggering number of buildings throughout their illustrious careers, including a good portion of houses in the downtown area. In 1907, they published a pattern book presenting a portfolio of photographs. The Book of Designs shows pictures and floor plans of 102 houses and buildings.

Espinola, himself a local architect, unearthed an original version of the book through interlibrary loan 15 years ago, and the rest is, um, history. He updated its contents with stories, background information and historical facts to produce this new book.

"I'm a guy that loves lists," Espinola declares over the phone. "There wasn't that much information [available], so I took it upon myself to document what these guys had come up with—the ultimate list, all the work that they did."

Just walking around downtown, book in hand, and looking at all the houses while reading the stories is worth the cover price. Who knew that Arno Rudolph Scherf, an agent for the National Brewery, was the first occupant of the monstrous 124 N. Sixth St. house in 1901? Apparently, he ran his own beer-bottling business out of the place. Espinola says that's what the huge garage out back was probably for. If we had only known this, while sitting there on the porch guzzling beer exactly 90 years later. If only ...

Wolfe and McKenzie designed public buildings as well, like the Sperry Flour Company Building at 30 N. Third St., now the location of the WORKS/San Jose Gallery. Back in 1899 it was the largest milling operation of its time in California, and it's one of the few Mission Revival buildings left in San Jose from days of old.

Again, the book is not just for geezer historians. Anyone who's lived with roommates in downtown San Jose has some sort of story to tell about their house. If you currently reside downtown, your house just might be in this book, address and all. What's more, you get a look-see at the homes in their first incarnation, before subsequent owners subdivided many of them. For example, the same house that used to be 615 S. Fifth St. in 1937 is now 611, 615 and 619 S. Fifth St.

"San Jose does have a unique physical appearance," Espinola says. "So much of it is those old houses and those old neighborhoods, and to get some insight and understanding of how it went up and how it became what it is—that to me is fascinating."

But perhaps the most fascinating parts of the project are the houses that remain unidentified. About 20 of the photos depict houses that Espinola still hasn't located yet. Whoever can identify one of them and point out the address gets a free copy of the book. Architectural historian Franklin Maggi identified plan no. 87, the Mary Earle Flats at 311 N. Third St. in the Hensley District, after purchasing the book the day it came out. Updates can be found on the publisher's website (www.bayandvalley.com).
---
George Espinola appears at an open house and booksigning event on Sunday (June 6), 1-4pm, at 155 South 14th St., San Jose, the 1906 home of the Charles S. McKenzie family.
---
---
Send a letter to the editor about this story to letters@metronews.com.
---
[ Silicon Valley | Metroactive Home | Archives ]