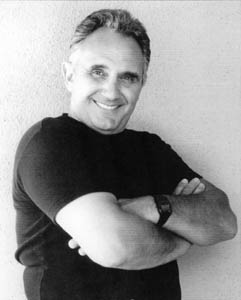 Tinseltown Therapist: Ralph Peduto bares the traumas of the actor's life in his new one-man show, 'Butt-Naked in Tinseltown.'

Naked Ambition

Ralph Peduto reveals some hard but funny truths about acting in his one-man show at City Lights

By Michael S. Gant

VETERAN ACTOR Ralph Peduto's résumé includes a lot of small parts in big movies. He's the kind of character actor whose character is identified more by occupation than name: he was a cop in Mrs. Doubtfire; an "organizer" in Patch Adams; a courthouse guard in True Believer. Peduto, who lives in Capitola, but shuttles back and forth to L.A. when the phone rings with another opportunity, understands that even the disappointments of missing a plum role or sharing the set with an ego-case star can seem funny in retrospect. "I am supposed to be in Bicentennial Man," he recalls in his rapid-fire New Jersey-born accent, "but I'm doing a commercial for Duraflame logs, so I can't make the meeting with the producers. I get six jobs in a year, [and then] two on the same day!? So I wind up playing a mad scientist for Duraflame. That's when I knew I needed therapy."

For Ralph, ever the performer, therapy meant writing and performing his new one-man show, Butt-Naked in Tinseltown--Inside the Actor's Mind, which runs for two weeks at City Lights Theater Company. Drawing on his own roller-coaster experiences plying the character actor's trade for many years, Peduto begins the evening with an extended riff about receiving a call from the casting director on the soap staple General Hospital: "The first show I tried to work on when I hit Hollywood years ago, and back then they wouldn't even let me past the gate, and now they're calling me up?"

Promising himself that this time around, he'll be a little smarter, a little savvier, Peduto again finds himself sucked in by the siren call of the dream machine: "I said, is it a small part? She said, 'Yes, but there is a good possibility of it becoming a recurring role.' Bingo! the two magic words that no self-respecting actor can ever resist. ... Damn, she caught me. All she had to do was reel me in, gut me and grill me. So I said, great, I'll be there." Of course, that temptation turned out to be just another chimera, but Peduto keeps on working--he's got a part on the July 25 episode of the TV show Monk, for instance, and "I will be at a liquor store in your neighborhood, in October. I play a cardboard cutoff holding a glass of Carlo Rossi wine."

Butt-Naked in Tinseltown, directed by Ross Nelson, receives its premiere this Monday, and Bay Area comic Sean O'Kane will show up for some preshow antics. If the whole project takes off, maybe Ralph Peduto will never be at the mercy of another casting director again.
---
Butt-Naked in Tinseltown--Inside the Actor's Mind, a one-man play by Ralph Peduto, plays June 9-10, 16-17 at 8pm at City Lights Theater Company, 529 S. Second St., San Jose. Tickets are $12 general/$9 students, seniors. (408.295.4200).
---
---
Send a letter to the editor about this story to letters@metronews.com.
---
[ Silicon Valley | Metroactive Home | Archives ]