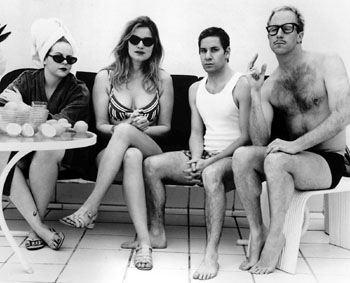 Imperial Teen plays the San Jose Gay Pride Festival.

Trapt Like Rats

Los Gatos band signed to Warner Bros. releases album this summer

By Sarah Quelland

LAST SATURDAY (June 1), the Cactus Club was packed as people piled in to catch some up-and-coming bands, including Element of Surprise, Tenfold and Divided. Headliner Trapt was the main attraction though. The Los Gatos band quietly signed with Warner Bros. last year and is slated to release its label debut this summer. With a dynamic stage presence and radio-ready songs like "Headstrong" and "Still Frame," Trapt should do well in today's musical climate. The band is about to embark on a short tour with Onesidezero. Its next Bay Area date is June 27 at the Pound in San Francisco with Red Top Road, Jack's Broken Heart, Mind of My Own and If All Else Fails.

ALL THE NEWS: With the Cactus Club closing, sources say property owner Jacek Rosicki plans to make the space a sushi bar by day and a Mexican restaurant with salsa music by night. The new venue may be called the Tiki Lounge. ... The Usual has been steadily making renovations and appears to be in a real transitional stage. Word is staff clothing bearing the logo Spy Club has been spotted inside, supporting the rumor that the SoFA club will soon be known by that name. ... The free Music in the Other Park concert series kicks off this Thursday (June 6) at 5pm at St. James Park in San Jose with a performance by New Wave pop group Notorious. Rounding out the series are the Brothers Johnson (June 13), Gregg Karukas (June 20) and NB Ridaz (June 27). ... The annual San Jose Gay Pride Festival will be held this weekend (June 8-9) at Discovery Meadow in San Jose. Saturday's highlights include performances by Lisa Dewey, Tiana Noyes & the Boys, while Sunday features Imperial Teen, the Cheeseballs, Ultra Naté and the Pointer Sisters. Visit www.sjgaypride.com for a complete schedule. ... Lon Lopez and the Booty Call celebrate the release of their new disc, Pop Rock Soul, Thursday (June 6) at the Usual with Squid Train and Moulder's Lounge. ... Local musician Dave Ray has been playing drums with roots-country outfit the Bingo Band. The group swings through town to play June 6 at Kleidon's Lounge and again June 8 at 3pm at Streetlight Records in San Jose. ... Camera 3 Cinemas is holding a free live-music series titled Patio Audio. This week's performance (June 12 at 8pm) features Menfolk and Carpet Room. ... Krenshaw has announced that it has amicably parted ways with bassist Leon Marcelis. Krenshaw's former bassist, who is known simply as Jimmeh and currently plays for Woodshed, will be filling in for an indefinite period of time. ... Lavabone is playing the Roxy in Los Angeles on June 22 and has charted buses for local fans to ride down with the band. The charge is $50 round trip. Email [email protected] for more info. ... After reuniting for the Thrash of the Titans festival, Death Angel rides again. Featuring current members of San Francisco rock outfit Swarm, Death Angel will regroup for several appearances, including July 5 at the Boardwalk in Sacramento and July 6 at the Pound (where the band will reportedly play under the moniker Kill as One). These are warm-up shows to prepare the group for the Dynamo Open Air Festival in Holland.

CORRECTION: Due to a production error, last week's column revisited the death of "Rockin' Rob" Dapello. We regret the error, yet we can't help but wonder whether it was Rob's demonstrative spirit that caused the snafu. We still miss you, Rob.

PLAN AHEAD: Hypocrisy, Soilwork, Killswitch Engage, Scar Culture and Single Bullet Theory, June 6 at the Cactus; Moodfrye, Rx Bandits, Dynamite Boy and the Reunion Show, June 6 at the WORKS/San Jose; emaneht, June 6 at the Gaslighter Theater in Campbell; the Caterwaul, June 7 at Plant Fifty One; Yellowcard, Jason Webley, Don't Look Down and Fan 5, June 7 at the Los Gatos Outhouse; Severed Savior, Asylum, Dopesick, Domeshots, G2K, and Ragweed, June 7 at the Cactus; Sloe, My New Life, Dexter Danger and Wasting Time, June 7 at the Chemical Free Zone in the South Side Community Center in San Jose; Good Riddance, June 7 at Slim's in San Francisco; Dexter Danger, Moonlife and Hidden Pocket, June 8 at the Mitchell Park Center in Palo Alto.
---
Send a letter to the editor about this story .
---
[ Silicon Valley | Metroactive Home | Archives ]