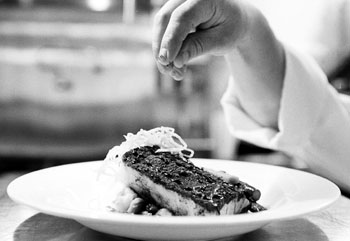 Photograph by Erika Pino

A Sprinkle A Day: All the ambience is in the dishes at the delicious Vivaca Grill.

Viva Vivaca

Armed with a sizzling new chef, Mountain View's Vivaca Grill turns up the heat on high-end California cuisine

By Christina Waters

MENU MAKEOVERS are a lot like makeovers on daytime television. Sometimes, the revamp is an instant hit, and the audience gasps with approval; then there are the times when the new haircuts falls flat, and the audience gasps with, shall we say, uncertainty.

Vivaca Grill falls into the instant-hit category. Still in its infancy at a mere 2 1/2 years of age, Vivaca finds itself with a new chef with an illustrious résumé and makeover ambitions. Gregory Tom, formerly of Dal Baffo, certainly knows his way around California ingredients and European food stylings, and this expertise is expressed deliciously in Vivaca's current menu.

When my friend Dianne and I visited last week, we chose one of the spacious booths with a view of the entire dining room. Separated from the bar by shimmering leaded-glass windows, the room, unlike the menu, has not received a makeover, and it could use one. Lots of ochre and celadon upholstery and carpeting here. The view through floor-to-ceiling windows is pretty boring--traffic and pedestrians. We mentally filled the huge, generic space with a few large palms and wondered why the management is content to leave ambience to the patrons' imaginations.

Oh, well. The menu, anyway, is very appealing. Chewy French bread kept us company until our wines by the glass arrived. Di's Sonoma-Cutrer Chardonnay 2000 ($7.50) was predictably awash with tropical fruit, but my Quivera Zinfandel 1999 ($8.50) was the real winner. Ripe, plush and spicy, it expressed the full glory of this great grape.

A field of baby greens and radicchio was strewn with smoked salmon and crumbled feta cheese in Di's salad special ($7). The citrusy vinaigrette pulled all the elements together. My pasta appetizer ($7)--remember the chef's background?--brought me in touch with the lightest gnocchi in captivity. Drenched in a robust, meaty Bolognese sauce, this was a sublime pasta course and would have done credit to any authentic Italian restaurant. (Whether or not potato-intensive gnocchi should be called "pasta" is a matter of much lively debate.)

Then a large knife with gleaming serrated edges was presented to me. The reason for it arrived a few minutes later--my entree of four double-chops from a rare rack of lamb had been encrusted in pistachios, set on a bed of quinoa pilaf and joined by some perfect roast Yukon gold potatoes ($36). Long spears of fresh asparagus, encircled by a red-wine reduction sauce, completed the plate. Not too much stuff, not overdesigned--the dish was inviting, accessible, and best of all, justified its high price tag in terms of abundance and quality.

Di's nonclichéd version of seared ahi tuna was equally expert ($26). Crusted with black sesame seeds and lightly dressed with a ginger and coconut sauce, the large slice of ahi was cooked very rare (in other words, perfectly) and came with a handsome selection of roasted beets--red, yellow and pink--plus sensuous mashed potatoes and asparagus. "This tuna is borderline as good as sex," Dianne said with a grin over a forkful of crimson ahi.

And it was. But here's the interesting part. The desserts at Vivaca kept pace with the outstanding entrees. The word "chocolate" always does it for Dianne, so her final plate involved something wickedly called Warm Bittersweet Chocolate Divinity ($7). A small island of chocolate cake, it floated in a crème anglaise sea and was joined by a cloud of unsweetened whipped cream--the heavy, rich kind of whipped cream that is even more delicious because it's so decadent ($7). The interior oozed warm chocolate soufflé. Let's not press the sexual metaphor and just say it was pretty stupendous.

I, on the other hand, am a sucker for wild strawberries, so I ordered the house wild-strawberry tart covered with berries the size of jelly beans, imported from Italy ($7). I, too, was pampered with my own fistful of whipped cream pierced by a fragrant mint leaf. There's a reason why we live here.
---
Vivaca Grill
Address: 800 California St., Mountain View
Phone: 650.318.8010
Hours: Lunch 11:30am-2pm weekdays;
dinner 5:30-10pm; closed Sun
Cuisine: New California
Entrees: $20-$36
Full bar
---
---
Send a letter to the editor about this story .
---
[ Silicon Valley | Metroactive Home | Archives ]