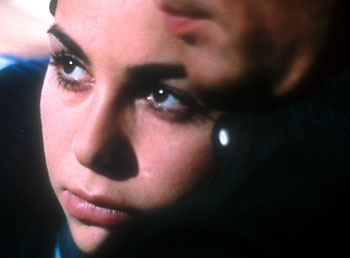 Hostage In A New Land: Iranian-American teenager Maryam (Mariam Parris) learns that suburban New Jersey isn't that far from Iran after all.

Scoundrel Time

In 'Maryam,' a suburban girl comes to terms with revolution in her birthplace, Iran

By Richard von Busack

OVER THE YEARS, the villain's names have changed, from Qaddafi to Saddam to bin Laden, but America's first great brush with the Islamic peril came in 1979, with the hostage crisis in Iran. During the titles of the highly recommended new film Maryam, we see the events in TV clips. The shah stands next to his good friend Henry Kissinger, shortly before retreating to Mexico. The Ayatollah Khomeini nods and gestures to a crowd. Over this ancient history, we hear a girl's flat voice: "As far as I was concerned, Iran meant nothing to me."

Maryam (Mariam Parris), the completely Americanized child of immigrants from Iran, lives happily in the leafiest part of New Jersey. Her lack of concern for her home country is shaken when her cousin Ali (David Ackert) arrives. Everything meets with his displeasure, since he's a newly minted fundamentalist. The way Maryam leads her life shocks Ali, who believes that she should be kept away from boys. Ali's cousin Reza (Maz Jobrani) also disappoints Ali: Reza's a Leisure Suit Larry, a typical 1970s pleasure-seeker. Lastly, Maryam's physician father (expertly played by Shaun Toub) harbors a family secret that Ali decides to unearth--first obliquely, then overtly.

Director Ramin Serry has done a first-rate job of putting viewers in the middle of this quarrel. We see the way '70s bad taste would have looked to immigrants--note the wardrobe of Maryam's dumb, blond boyfriend (Victor Jory), who dresses in overalls to pick up Maryam on a date. At the same time, Ali's fanaticism grows until he courts serious trouble: he gets the idea for a crackpot mission to shoot the Shah.

Maryam is a sharp yet sensitive film, but it's not quite perfect. Watching Parris in the lead raises the question of whether or not it's always best to have a poised actress in the lead in a movie about a young girl. Maybe Parris' wavering quality harmonizes with the part. Adolescent girls are always unsure, always having to pretend to be something they're not. Less forgivable than Parris' acting is that the way the discrimination arrives is too obvious. It's as plain as the sign on the hardware-store door that says, "No Iranians," as plain as the neighbor who boycotts Maryam's birthday party and can't even up a little white lie about why she can't make it. The effect would be much more powerful if the discrimination were (as it often is) harder to pinpoint. As novelist Pat Barker put it when she wrote about the terrible feeling that the neighbors have their eye on you: "It's not what's said, is it?" Serry's Rashomonization of the story of Ali's father in Iran shows how much more powerful ideas can look the less you underscore them.

Maryam tells of an Iranian family, but it's more than just an ethnic film. It's good; indeed, it's important. The villains' names are always different: the urge to lash out and punish immigrants in the name of some injury to America--that's what never changes, to our shame.
---
Maryam (Unrated; 90 min.), directed and written by Ramin Serry and starring Mariam Parris, David Ackert and Shaun Toub, opens Friday at the Towne Theater in San Jose.
---
---
Send a letter to the editor about this story .
---
[ Silicon Valley | Metroactive Home | Archives ]